Rockets GM Daryl Morey defends decision to keep Dwight Howard
Dwight Howard is still in Houston, and general manager Daryl Morey said it would have taken something significant to move him elsewhere.
• 2 min read
The Houston Rockets are eighth in the West after reaching the conference finals last year, and it wouldn't have surprised anybody if they made a major move at the trade deadline. Their defense has fallen off a cliff this season, and before the All-Star break, interim coach J.B. Bickerstaff called them a "broken team." Dwight Howard's name came up in trade rumors, but Houston general manager Daryl Morey did not find a suitable deal for him, instead sending Donatas Motiejunas and Marcus Thornton to the Detroit Pistons for a protected first-round pick. 
"We're not feeling good about how we're playing, but we feel good about our roster," Morey said on The Vertical's trade deadline show. "It's the group that made the Western Conference finals last year."
There's a perception that Howard and James Harden aren't getting along, and they reportedly tried to get each other traded after being eliminated by the Portland Trail Blazers in the first round two seasons ago. Morey, though, pointed to the success they've had together, repeatedly referencing their run in last year's postseason.
"James and Dwight together have made the Western Conference finals, have won more than two-thirds of their games," Morey said. "This is a group that we would be very reluctant to split up. Obviously there was a lot of interest in [Howard] -- I think there was a lot of noise about that -- but that was something we were going to be very reluctant to break up. As part of my job, I do have to listen to everything, but nothing got close and we weren't going to split that up unless it was something significant."
According to ESPN's Marc Stein, the Rockets "talked about potential Howard deals in recent days with a list of teams including Atlanta, Boston, Charlotte, Chicago, Dallas, Miami and, most recently, Milwaukee." ESPN reported that rather than simply listening, they began "aggressively shopping" Howard just before All-Star weekend. Houston reportedly wanted "at least one frontline player and a future first-round draft pick in return," however, and that kind of package was going to be difficult to obtain. 
It's easy to say that the Rockets should have broken this team up, despite Morey's insistence that they like having Harden and Howard together. Through 55 games, this season has been a massive disappointment, and Houston now has to fight just to clinch a playoff spot. It's possible that this duo has peaked and the Rockets will look extremely different in July.
Due to Howard's contract status, though, it'd be unfair to have expected Morey to find a great deadline deal. The 30-year-old will almost assuredly opt out of his $23 million salary next season in order to sign a new contract this summer. There was little incentive for teams to pay up for a quick rental and then an "advantage" in a potential bidding war. Due to his injury history, signing him to a full, five-year maximum contract would be a huge risk, but that's surely what he'll be angling for.
Despite all the drama in Houston, Howard might be worth more there than anywhere else for the moment. The Rockets still have a talented roster on paper, and the rest of the season has to be about getting everybody on the same page. At least they know that no one's going anywhere now.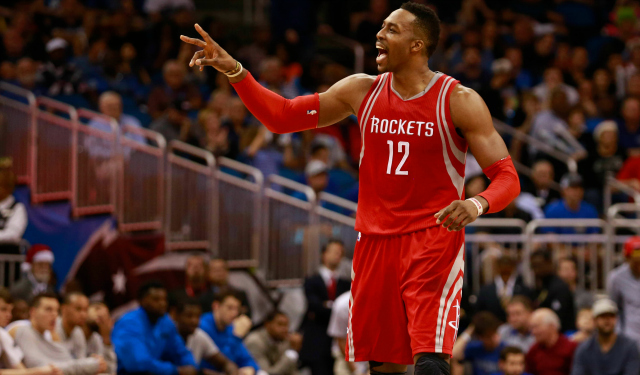 Show Comments
Hide Comments
Our Latest Stories
Hold up, let's not forget how weird Cleveland was last season

You'd think that would eliminate New York, but he said he wants to stay

This was unnecessary, but in the end didn't hurt the Mavs
The Raptors guard is stepping up

Whoops! Looks like the refs missed this one

Teams should plan their rest dates a little better