Rockets' James Harden says Chandler Parsons will be missed
All the Houston drama is slowing down.
• 1 min read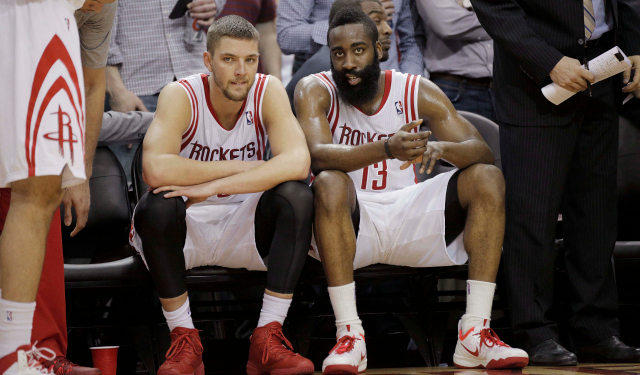 Offseason: Free Agency | Latest from Ken Berger | Rumors
A couple of days ago, Houston Rockets guard James Harden said some things that he maybe shouldn't have said: he's not worried about Houston losing Chandler Parsons, Jeremy Lin and Omer Asik; he and Dwight Howard are the "cornerstones" of tne franchise; the other guys are "role players or pieces that complete our team." This came shortly after Howard said Parsons' departure "won't affect us at all."
Oooh! Bad blood! Drama! Let's have Parsons and the Dallas Mavericks play the Rockets on opening night!
I wonder if Harden will do add more fuel to the fire on social media.
Duh! RT @kingshap: @JHarden13 you gonna miss Parsons?

— James Harden (@JHarden13) July 25, 2014
Of course! RT @dhud8: Just wondering @JHarden13 did you consider your self as a roll player on OKC?

— James Harden (@JHarden13) July 25, 2014
...oh.
So, maybe Harden just chose his words incorrectly, but didn't mean any harm. Maybe Howard, too, was just doing his best to stay positive and confident his team. Just like Parsons himself said.
It's all pretty silly. Everyone knows Houston will miss him, and everyone knows the remaining Rockets have to move on and appear optimistic about their chances. This storyline will be revisited when the Mavs meet Houston, and then it will go away.
Show Comments
Hide Comments
It's never too early to start thinking about next year's NBA Draft

Boston took Tatum with the No. 3 pick, which they had after their trade with the 76ers

Someone in New York clearly doesn't want the Knicks to trade their prized unicorn
See who nailed it and who whiffed with our grades for every pick of the 2017 NBA Draft

Full results of all 60 picks of the 2017 NBA Draft

Highlights and lowlights, including several ways the Bulls found to lose