Rockets' Patrick Beverley may not need surgery for torn meniscus
Houston Rockets' point guard Patrick Beverley says he may not need surgery to repair torn meniscus and could be out 10 days to four weeks.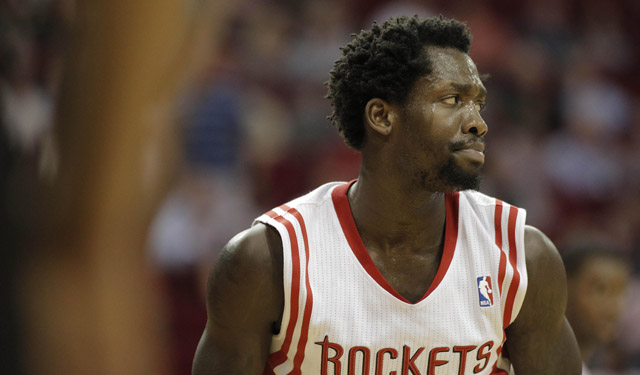 More NBA: Power Rankings | Expert Picks | Latest news & notes
The Houston Rockets potentially received a huge blow to their playoff success when point guard Patrick Beverley was diagnosed with a torn meniscus. The defensive pest has been integral to the Rockets' ability to squeeze opposing offenses with his ball pressure and Dwight Howard's ability to defend the paint and pick-and-rolls. Losing him would mean a shaky defense would get significantly worse in the postseason.
However, there is a chance Beverley's torn meniscus won't leave him out for very long. He told reporters on Saturday he has yet to see Dr. James Andrews, which will happen Monday, but he hasn't had surgery recommended to his recovery process just yet. It's possible he won't need surgery at all and he could be out anywhere from 10 to 14 days or four weeks. From the Houston Chronicle: 
Rockets guard Pat Beverley said he will see Dr. James Andrews on Monday, but added that surgery has not been recommended to remove part of his torn meniscus in his initial conversations with Andrews or in conversations with Rockets doctors.

Beverley, who left Thursday's game after he "knocked knees," said he could be out 10 to 14 days or up to four weeks and that he "for sure" believes he will play this season.

"No one was going to remove anything," Beverley said. "We haven't even discussed surgery yet. It looks to the point I think I might not have to get surgery. We don't know. We have to see Dr. Andrews on Monday for him to make his educated decision about that."
The best thing for Beverley would be not getting the meniscus removed or part of it removed because that is likely to cut down his longevity of being able to do the things he does on a basketball court. While it would mean he gets back on the court quicker, the impact it would have on his knee would likely cut down his athleticism and ability to move the way he does. Repairing the torn meniscus is the safest option for such an injury, but it would mean he doesn't play again until next season.
If he can avoid surgery altogether, then Beverley would be set to return this season, maybe even by the time the playoffs begin in a couple of weeks. One of the world's top sports surgeons, Dr. James Andrews, will help Beverley and the Rockets determine the best course of action for the point guard.
On the season, Beverley has had the biggest impact on the team, according to net rating differential. Houston is plus-9.0 points per 100 possessions when he is on the court, just ahead of James Harden who has a plus-8.5. The defense is 1.7 points per 100 possessions better with him on the floor and 3.8 points per 100 possessions better on offense than when he's on the bench.
Show Comments
Hide Comments
The Celtics will attempt to even the series Tuesday night in Cleveland

Golden State's owner would like some revenge after his club blew a 3-1 lead last year

Mike Brown has coached Golden State for the majority of this postseason
You play who's in front of you, and that's what Golden State did -- and beat everyone it f...

This is the first sweep the Spurs have suffered since 2010

Pop doesn't know whether Manu Ginobili will retire, but he wanted to give him a proper salute...