Rockets PG Patrick Beverley (knee) 'likely' to play Game 2
Rockets guard set to return despite knee injury in Game 1.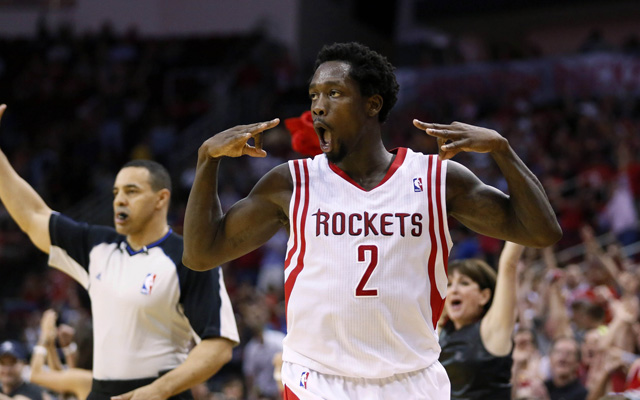 Update 2:49 p.m.: The Rockets announced the same, Beverley is "likely" to play Game 2.
More Rockets-Blazers: Lillard cold blooded | Game 1 Court Vision | Schedule
Houston Rockets guard Patrick Beverley took a hit to the knee in Sunday's Game 1 loss to the Trail Blazers, and was hobbling right up until he fouled out vs. Damian Lillard. There was concern Sunday night that Beverley could miss time; an MRI was scheduled for Monday. Yahoo Sports reports that Beverley is in the clear, the MRI revealed no new damage, and he's good to go for Game 2 in Houston. 
Houston's Patrick Beverley will likely play in Game 2 on Wednesday, league source tells Yahoo. Met with team doctor this morning.

— Adrian Wojnarowski (@WojYahooNBA) April 21, 2014
Beverley suffered a blow to his injured knee in Game 1 against Blazers, but MRI showed no new damage, source tells Yahoo Sports.

— Adrian Wojnarowski (@WojYahooNBA) April 21, 2014
The news comes as a huge sigh of relief for the Rockets who need Beverley's defense against Damian Lillard who went off anyway in the Blazers' Game 1 win. Beverley suffered a torn meniscus earlier this month but returned early to help Houston in the playoffs. 
Lillard shot 3-of-6 with Beverley off-court in Game 1, and 6-of-13 with him on-court, according to NBA.com. Beverley finished with nine points, six rebounds, two assist, a steal and a block Sunday. Game 2 is Wednesday. 
It appears Wall will be staying in Washington for a long time

Apparently James wasn't aware that Kyrie was considering a change of scenery

The Knicks reportedly have interest in the Cavs star, but do not want to give up their uni...
The Knicks, Spurs, Timberwolves and Heat are reportedly his preferred teams

Altman has been serving as the Cavs' assistant general manager under David Griffin

It was a calm Friday in the NBA world ... and then it wasn't