Rockets trade Jeremy Lin, 1st-round pick to Lakers
Houston has sent Jeremy Lin, first-round pick to Hollywood.
• 1 min read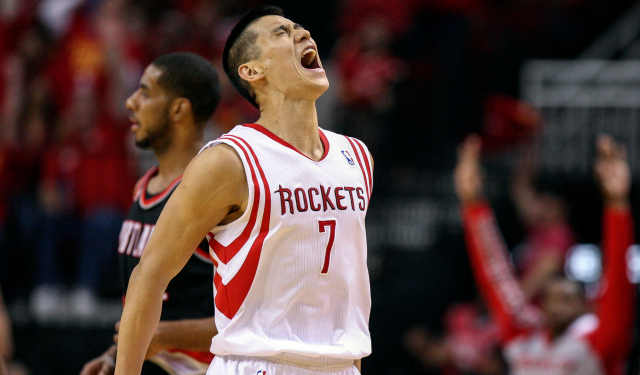 More Offseason Analysis: Coaching changes, news | Free Agency | Draft
The Houston Rockets have traded Jeremy Lin to the Los Angeles Lakers, as first reported by ESPN's Jeff Goodman and confirmed to CBSSports.com's Ken Berger. News that the two sides were talking was first reported by ESPN's Marc Stein.
The Rockets finalizing Jeremy Lin, a future first-round pick and other draft considerations to the Lakers, league source tells Yahoo.

— Adrian Wojnarowski (@WojYahooNBA) July 11, 2014
The Lakers will send cash and rights to overseas player to the Rockets, but no salary back, league source tells Yahoo.

— Adrian Wojnarowski (@WojYahooNBA) July 11, 2014
This was a part of Houston's strategy to open up cap space to sign free agent big man Chris Bosh in the wake of LeBron James' decision to sign with the Cleveland Cavaliers. But in a crushing development for Houston, Bosh has decided to stay with the Heat for 5 years and $118M.
It was previously reported that the Sixers would be likely trading partners for Houston, but the Lakers make sense as well. Los Angeles has all the cap space in the world, and Lin's contract expires next summer. The Lakers took advantage of an opportunity to acquire extra assets from the Rockets, plus add a legitimate rotation player to a team that is full of empty roster spots. It's just a shame this couldn't have been done while Mike D'Antoni -- the head coach who oversaw Linsanity -- was still with the team.
The Rockets are still on the clock to match the 3-year, $46M offer sheet Chandler Parsons agreed to with the Mavericks.
Cleveland is one of Rose's biggest suitors, and the Irving situation could lead to an even...

Five years later and Celtics fans continue to throw shade -- Allen later deleted the comme...

Irving has a desire to team up with Butler dating back to June
Apparently, Irving first asked to be traded in June in hopes of joining Jimmy Butler in Ch...

Despite Melo being a good trade piece for the Knicks on paper, he has his sights set on joining...

Kyrie is reportedly open to leaving Cleveland, and New York is among his top choices to be...