Rockets trade Thomas Robinson to Portland in final cap-clearing move
Rockets trade Thomas Robinson to make cap room to sign Dwight Howard.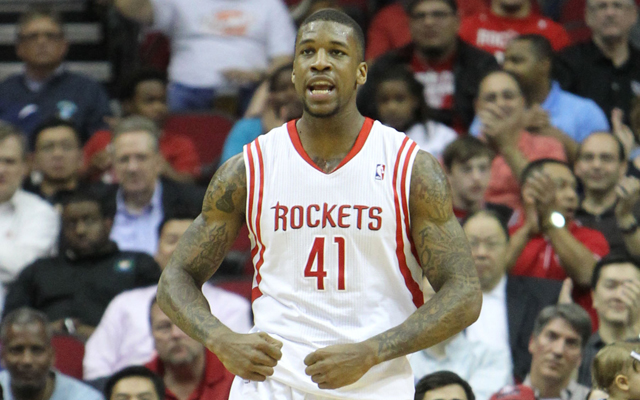 The Houston Rockets have cleared the decks for Dwight Howard to land. 
The Rockets made their final moves Sunday to create enough cap space to offer Howard the max deal, just hours before the opening of the NBA free agency period at 12:01 a.m. ET Monday. After renouncing the rights to Carlos Delfino and Aaron Brooks, the Rockets traded rookie forward Thomas Robinson to the Portland Trail Blazers for two future second-round picks and the rights to Kostas Papanikolaou and Marko Todorovic, league sources confirmed to Ken Berger of CBSSports.com. 
Berger also reports the Rockets have made Jeremy Lin and Omer Asik available for trades in order to make a second max contract offer available and form another "Big 3" with James Harden.
Robinson becomes just the second top-five pick to be traded twice before his second season in the league begins, after Chauncey Billups. The Kansas product, traded at the deadline, averaged 4.8 points and 4.5 rebounds last season for the Kings and Rockets. The move was clearly made by the Rockets with the firm belief they are in pole position to sign Howard in free agency. 
For Portland, this is a no-lose proposition. They now have two top-10 picks from the 2012 draft in Robinson and Damian Lillard, and a power forward to add to their pitiful bench. Robinson didn't play for the Kings or Rockets for a reason last season, but will have a better opportunity in Portland, and still has the talent to make the most of it. 
For Houston, all their eggs are in the Dwight Howard basket. You assume they wouldn't put themselves this far out on a ledge if they weren't sure they were going to get Howard. 
But as we've learned, the only thing you can be sure of is Howard will continue to leave the league in chaos for as long as possible.
Show Comments
Hide Comments
The commissioner's infamous veto of the Paul trade could have been different

Warriors are intent on keeping a mind like Jerry West around

LaVar has always been proud of his son, which Magic says isn't a problem as long as it doesn't...
Curry was cookin' on the pan and stole the show when she took over the mic

Shaq says LeBron isn't comparable to any one legend, rather a mixture of several greats

Kevin Love says the Cavaliers are on the same level as the Warriors: 'We match up well'