Rondo says he hasn't talked with Melo about teaming up
There's been speculation and mild chatter about Rajon Rondo and Carmelo Anthony discussing a future partnership together, most likely in New York. Though Rondo says that's not accurate.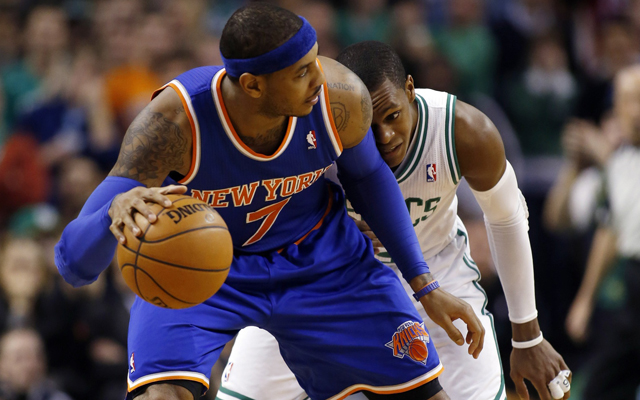 You can put the Rajon Rondo-to-New-York talk on ice. At least for now. 
Carmelo Anthony has already denied the talk that he's recruiting Rondo to the Knicks, telling USA Today, "C'mon man. In my book, that's tampering."
Now it's Rondo's turn to shoot it down. 
"People talk, media talk, people make up rumors, people run with them," Rondo said after the Celtics' shootaround Tuesday before they played the Brooklyn Nets.

"That's about it. I haven't spoken to him. He ain't contacted me. It's just rumors."

When asked if Boston is home and he is a Celtic, Rondo said, "I'm a Celtic right now."
The Celtics have been said to accept an offer sending out long-term veteran players for Amar'e Stoudemire, but that doesn't have anything to do with Rondo.
Rondo hasn't been cleared to return to practice quite yet, telling the team's official site on Wednesday, "I'm confident, but like I said, I haven't practiced or anything so it's hard to say." But he does appear to be closing in, as his timetable would suggest. 
Rondo is signed through the 2014-15 season and while there's been plenty of speculation of how he'd get along with new coach Brad Stevens and if he's part of the long-term rebuilding plan in Boston, nothing seems to suggest, at last right now, that he's angling for a way out of town. 
Even Floyd Mayweather weighs in on the war of words between the two stars

The three-team deal would have also shipped Kevin Love to Denver

Ball wasn't happy about a foul call, swore at a referee and took his team off the floor
Jared Sullinger wants back in the NBA; he knows his weight will play an important part

Cleveland is one of Rose's biggest suitors, and the Irving situation could lead to an even...

Five years later and Celtics fans continue to throw shade -- Allen later deleted the comme...