Rose, Reinsdorf say they're ready to move on from talk of rift
Whether there was tension between the Bulls star and the front office or not, both sides seem ready to put it behind them.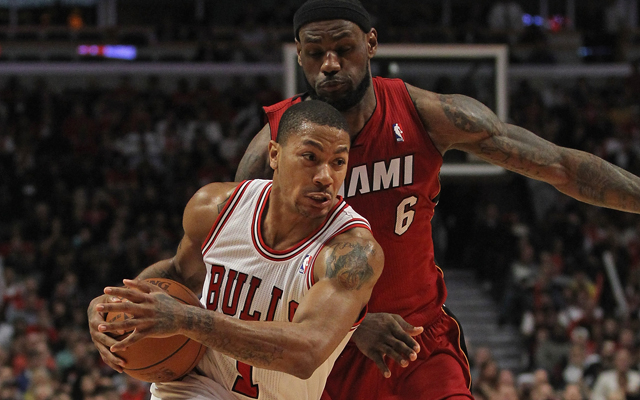 Offseason: Free Agency | Latest from Ken Berger | Rumors
The Bulls had a little tiff with the media a week ago. The Chicago Sun-Times reported that there's a rift between the Bulls' front office and Rose based in part out of comments from people in Rose's camp while he was recovering from his knee injuries. 
Rose spoke with the Sun-Times, and without our knowing exactly what the question was, seemed to actually acknowledge the situation. That sparked a confusingly angry response from owner Jerry Reinsdorf, who refuted what, at least on the surface, Rose had admitted himself. 
On Sunday, Reinsdorf told Chicago radio he's ready to move on. 
Chicago Bulls Chairman Jerry Reinsdorf said Sunday he is ready to "move on" after issuing a strong rebuke last week to a Chicago Sun-Times story that reported "tension" between point guard Derrick Rose and the team.

Speaking Sunday to co-hosts Bruce Levine and Barry Rozner on WSCR-AM (670), Reinsdorf reiterated his disdain for the story.

"The article infuriated me," Reinsdorf said. "I put out a statement and said what I felt I had to say."
via Bulls' Reinsdorf moving on after Rose report - Chicago Tribune.
The Sun-Times followed up and transcribed a statement from Rose on ESPN on Friday where the former All-Star said there is "nothing going on."
In an interview with the Sun-Times earlier this week, Rose acknowledged hearing ''the stories'' of a lingering rift between the Bulls and his camp but said he hoped it was all in the past.

Bulls chairman Jerry Reinsdorf released a statement late Thursday night disputing the Sun-Times story. Rose admittedly spoke with Reinsdorf by phone, then did an ESPN interview Friday morning attempting to change directions.

''[Reinsdorf] told me don't worry about it, just stay focused and, like I said, it's the past,'' Rose told ESPN. ''It's funny just hearing so many stories about what's going on, and they're coming out of, like, kind of nowhere, so it's funny to hear about them, but it's nothing that's going on.''
via Paul George injury overshadows Derrick Rose controversy - Chicago Sun-Times.
So how does all of this look? 
Well, more than anything, it looks confusing. It would seem that Rose was confused about the question and then was set straight by management. Either that, or he really was being honest and then management acknowledged it. Either that or the report drastically misrepresented the situation and the Bulls are being 100 percent honest about their situation. 
Where you land on that scale is mostly a matter of opnion. The only thing we do know is that something happened, and while it doesn't appear to be headed towards impacting the Bulls in the short-term, it is something to look at long-term. For now, Rose is healthy, the Bulls are on the rise, and this situation can be shoveled into the "summer talk" container, as George Karl has termed off-season news. 
Show Comments
Hide Comments
The two best point guards in the East go at it in a series sure to be filled with drama.

Breaking down key matchups as the second season reaches the conference semifinal series

The second round of the 2017 NBA Playoffs tips off Sunday at 1 p.m. ET, with Game 1 of Cel...
The Spurs have homecourt advantage, and will host Game 1 Monday night at 9:30 p.m. ET

All-Star guard flew to Washington after Game 6 vs. Bulls to attend his sister's funeral Sa...

Some love for the Rockets over the Spurs, and at least one expert says the Cavs are going...