Rumor: Grizzlies shopping Zach Randolph
The Grizzlies are struggling and if things don't improve, they may look to cash out on the value of some of their top players, including Zach Randolph.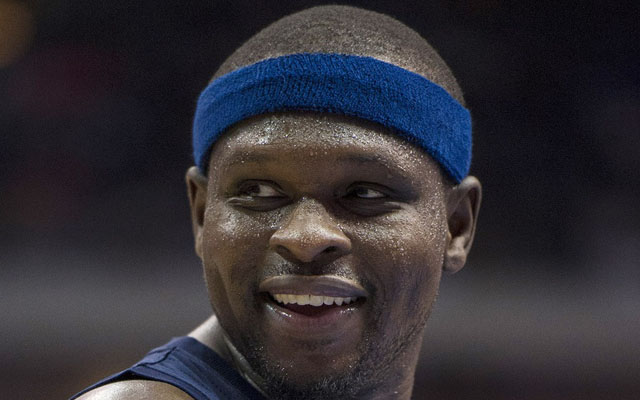 Zach Randolph has stressed that he's very happy in Memphis and would prefer to stay put. 
Problem is, it's not really his call. 
He's set to be a free agent if he opts out of his current contract, which seems likely given his age (32) and the fact he'd probably prefer a longer term deal to wrap up his career. Which means the Grizzlies, who are limping along largely due to injuries, may have to do the prudent thing and move Randolph now to try and sell high on his current trade value. 
And the Grizzlies have started making some calls on it, according to Jared Zwerling of Bleacher Report:
Several sources said the Grizzlies are currently shopping power forward Zach Randolph, and two of them are hearing there's a destination and main trade piece involved: New Orleans and stretch-4 Ryan Anderson, who's averaging a team-high 21.7 points per game on 47.7 percent shooting from three-point range.

"A trade centered around Randolph and Anderson should happen down the line this season," one source said.
The Grizzlies aren't in the kind of position where a total rebuild would be necessary as they have both Marc Gasol and Mike Conley in place for the long-term. But it's either pay up on Randolph again, or change direction some and try and acquire some value back in exchange for him. 
A deal with the Pelicans would be solid, but it doesn't seem like New Orleans is as keen to trade Ryan Anderson and some have previously thought. He's one of the premier stretch 4s in the league and alongside Anthony Davis, the Pelicans could have a pretty solid frontcourt. 
The Grizzlies are on the books for about $46 million next season if Randolph opts out, so they could likely squeeze him in if they wanted, but they aren't a team in position to pay the luxury tax. 
Randolph is making $16.9 million this season, so finding a trade partner to match up with that salary could be difficult, but a team that's looking for a top tier power forward may be willing to shell out for him now, rather than compete in the open market for him this summer.
Show Comments
Hide Comments
Club reportedly wants to keep stars, but doing so promises more of confusion and falling s...

Warriors star talks to CBS Sports about how he gets his mind right

Vince Carter, Norman Powell and Nene have also shined on the big stage
A fantastic series will pit two of the best players in the league against one another, aga...

What does this mean for the future of Paul George?

Father's dream of his own billion-dollar brand prevents his son from landing a deal with the...