Rumor: Knicks working on deal with Raptors for Kyle Lowry
The Knicks are reportedly working on a deal with the Raptors to bring in Kyle Lowry to help their depleted backcourt.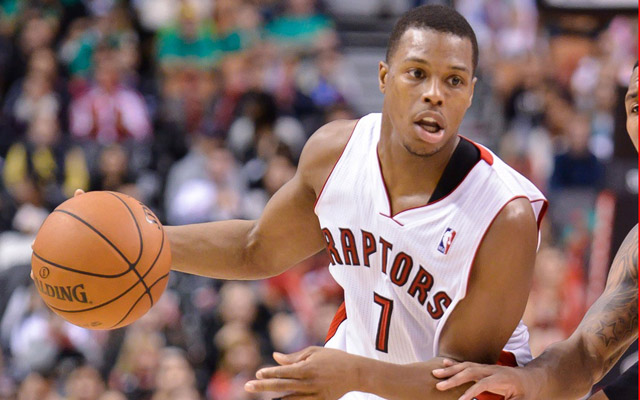 Fresh off trading Rudy Gay to Sacramento, Raptors general manager Masai Ujiri is trying to pull another fast one. 
According to multiple reports, the Knicks are chatting with the Raptors about a deal centering around guard Kyle Lowry. 
According to Yahoo Sports, the rumored deal would include a package of Raymond Felton, Metta World Peace and a 2018 first round pick headed back to Toronto. There's has also been speculation about Iman Shumpert being included, but the Raptors don't reportedly like him that much.
A hangup to the rumored deal: It's doubtful the Raptors would want to take on Felton's two remaining years. And if you're the Raptors, you're in search of draft picks and young assets.
Problem there is, the Knicks have only two intriguing young players in Shumpert and Tim Hardaway Jr. and three draft picks that are trade-eligible right now according to NBA rules -- 2018, 2019 and 2020. So...
The Knicks certainly do need help though in their backcourt and Lowry would be a quality addition. With Raymond Felton out for a few weeks, and playing generally terrible basketball when healthy anyway, Lowry would be a very good fit. And when you consider the Knicks care not about future assets or draft picks and only concern themselves with the immediate future, they're probably not going to hesitate to pull the trigger on something.
But a significant bonus to it for the Knicks: He's making $6.1 million this season and is on an expiring deal. So if they were to figure out a way to unload Felton's deal in it, then all of a sudden it's a steal for New York. But we're talking about Ujiri being involved, and he doesn't often get duped. 
Lowry, 27, is averaging 14.6 points and 6.7 assists for the Raptors in 20 games this season.
Show Comments
Hide Comments
It's not all about Stephen Curry and LeBron James being awesome -- we knew that already

Riley says he had a close friend who "talked him off the ledge"

Bryant continues his interesting post-retirement appearances
League to host its first awards show to announce the winners of major honors, such as MVP

They'll be the only team in the league wearing Jordan Brand uniforms next season

On a night of blowouts, Stephen Curry led the Warriors to a sweep and the Raptors got their...