Russell Westbrook is cleared, will play Sunday for Thunder
Oklahoma City Thunder star guard Russell Westbrook has been cleared to play and will join the team tonight against Suns on Sunday.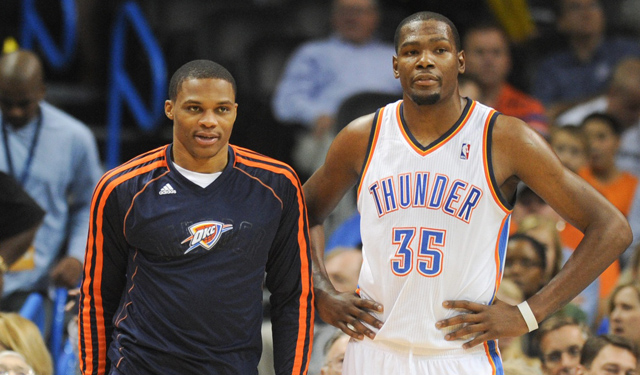 The Oklahoma City Thunder were one of the most dominant teams we had seen in a long time during the 2012-13 season. They were outscoring teams by 11.0 points per 100 possessions, by far the league leader in that category ahead of the second place Miami Heat (9.9). When they entered the playoffs against the Houston Rockets, Russell Westbrook suffered a lateral tear of his meniscus on a collision with Patrick Beverley. This ended his playoff run and the Thunder's playoff run was ended in the next round by the Memphis Grizzlies.
Since then, the Thunder have been overlooked as many people have concluded they are now exposed due to the James Harden trade a year ago. It's mostly because they've looked so mediocre (relative to playoff contenders) without Harden and Westbrook on the team. Sunday night in the home opener against the Phoenix Suns, we'll finally get a chance to see the team with Westbrook in action.
Russell Westbrook cleared to return tonight against Phoenix, Thunder announce.

— Ken Berger (@KBergCBS) November 3, 2013
After consultation among team, Westbrook and agents, "returning to play was the correct next step," GM Sam Presti said.

— Ken Berger (@KBergCBS) November 3, 2013
The Thunder have looked pretty shaky in their first two games. It took a 42-point effort from Kevin Durant to beat the Utah Jazz on the road in the season opener before they lost by 19 points to the Minnesota Timberwolves in a game that wasn't nearly as close as the final score may trick you into thinking. Westbrook's return to the Thunder apparently couldn't come quickly enough. 
He averaged 23.9 points, 7.6 assists, and 5.4 rebounds in the 2012-13 season, earning All-NBA Second team honors. He missed preseason and the first two games due to problems in his knee caused by a loose stitch from his knee surgery during the playoffs.  
Show Comments
Hide Comments
Will Iggy stay in Golden State? Does anyone have any idea what to do with Derrick Rose?

Hoiberg was asked about Isaiah Thomas possibly carrying the ball during Game 5

Celtics point guard does not need anyone to hype up his defense
The Bulls had it, they had it ... and ... it's gone

The Bulls found they were without hot water following their Game 5 loss

Wall finished with 20 points and 14 assists in win over the Hawks