Russell Westbrook is 'not sure' if he'll be ready to start the season
Russell Westbrook is still without a timetable and is "not sure" if he'll be return to play in the Thunder's season opener.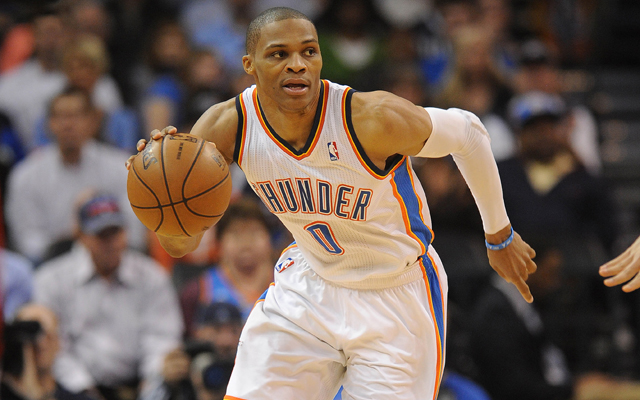 OKLAHOMA CITY -- With Thunder training camp kicking off Saturday, Russell Westbrook is scheduled to take part on the practice floor, but will be limited and says he's not sure if he'll be ready to go to begin the season. 
"Not sure, man. I'm not sure," Westbrook said when asked of his expected return date. "I just I wake up in the morning, get to my rehab, then go back to sleep and then do it all over again. I just try and take it one day at a time, man. Try not to look ahead. I think when something like this happens, you have to take it slow. There's no need for me to rush ahead to looking at the schedule or anything like that. Just take it one day at a time and find a way to get back."
Asked what his state of mind is right now, Westbrook was optimistic, flashing that trademark grin. 
"Positive," he said. "Positive."
Thunder head coach Scott Brooks was cautious when speaking about Westbrook's recovery from a torn meniscus, but did say his point guard was on schedule and would participate in training camp. 
"He will participate in some of our practices, some of the thing we've planned out three or four months prior to training camp," Brooks said. "The last 24 hours he had a little bit of swelling that we will monitor, but that's pretty common. When you have a surgery, you're going to have some peaks and valleys.
"We've had a plan all along that he's going to participate in some of the practices, early on in the practice," Brooks said. "He's going to continue to do some individual work with Coach [Robert] Pack."
As for what he's been doing, Westbrook said, "On the court, doing some spot shooting, trying to get my rhythm back. The first day of training camp, I'll be on the floor."
Westbrook hasn't had an official timetable since his surgery, but isn't worried about how long it takes him to get back. He's just focused on making sure he's listening to his body and taking his time.
"I don't know how long the process takes normally. Everybody's body is different," he said. "Once people see a certain knee injury, everybody expects three-to-four months or 10 days. But everybody reacts to certain injuries differently. This is my first time ever being hurt and out this long."
So, does he have any concerns or anxiety about the player he might be when he comes back? Westbrook is known for his tenacity and relentless attacking style. Will he pull back the reins any?
"Not at all, he said. "Not at all."
Show Comments
Hide Comments
Our Latest Stories
The Beard would reach historic figures if he's able to do this

Atlanta has its point guard for the foreseeable future

The OKC star was too busy brushing his teeth to watch K.D. debut with his new team
We pretty much saw the player we've been watching for years. But about that defense ...

The hard work over the summer has paid off for Portland's star after a dominant season ope...

The Warriors get beatdown by the Spurs and the Cavaliers reign in Cleveland. We try and make...