Russell Westbrook returns, and makes the Thunder whole again
Russell Westbrook surprisingly made his return to the floor Sunday night against the Suns. And while he showed some signs of rust, it was mostly all the same old relentless Westbrook.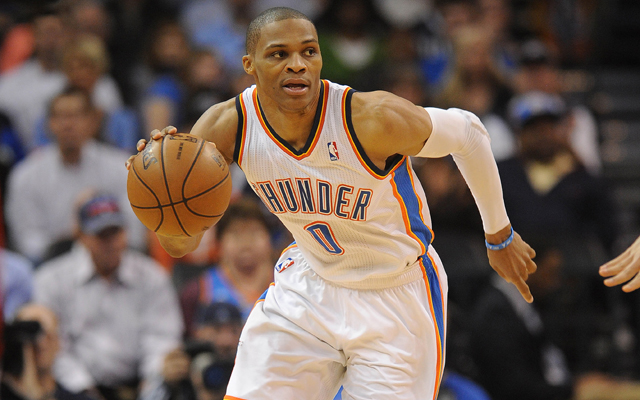 OKLAHOMA CITY -- It didn't take long for Russell Westbrook to show that he's not going to be changing the way he plays. Making his return to the floor weeks earlier than expected after recovering from two offseason knee procedures, the first play of the game, he knifed between a Phoenix double-team and took dead aim for the rim. 
Take it slow and ease back in? Russell Westbrook has no idea what that means. Even after his injury, he only knows two speeds: fast and crazy. 
Westbrook's night back included the expected ups and downs with clear signs of rust and recovery, but it also showcased that he's pretty much exactly the same player he was before tearing his meniscus last postseason. His mindset hasn't changed and his relentless, reckless attacking style is just as relentless and reckless as ever. 
"I was comfortable. Very comfortable. I'm making any move I want," Westbrook said. "I missed some easy ones that I usually make, but that will come."
Westbrook's return came roughly three weeks earlier than was expected, largely because that was the timetable the team put on him when he had an arthroscopic procedure to clean up a loose stitch that was causing swelling. But Westbrook scoffs at your timetables, as he said when addressing the media before the Thunder's game Sunday against the Suns.
"I don't know who made that up in the first place," he said. "I was never on that timeline at all. I was just taking it day by day. Taking it one day at a time until I was ready to play."
Making such a quick return raised obvious questions. Is he rushing back? Is he ready? What does he expect from himself?
"I expect to win," he said flatly. 
Mission accomplished on that front as the Thunder got back on track with a 103-96 victory over Phoenix. Coming off an embarrassing 19-point beatdown in Minnesota, the Thunder were feeling it a little bit and getting their three-time All-Star point guard was a significant boost. 
"His presence [was big]," Kevin Durant said. "Russ is Russell Westbrook, a three-time All-Star, 23-5-7 the last three years so you've got to respect it. He put pressure on the defense all night. He missed a few layups, but it was good to see him aggressive and not worry about anything and just play freely. He opened it up for a lot of people tonight."
Westbrook played 33 minutes and while Scott Brooks said pregame there was no minute restriction on him, it did seem like he was trying to manage it wisely, not going overboard in this first game. And as the game, Westbrook looked more and more like his old self. He didn't turn it over in the second half and he got back to attacking the rim with that beautiful reckless abandon we're all so used to. His final line: 21 points on 5-16 shooting, seven assists and four rebounds. 
Westbrook did admit to feeling a little rust and said his conditioning could be improved.
"It could be better. It was alright," he said. "But that's expected. I didn't expect to come back and be bionic man."
And while there were moments that illustrated Westbrook's rustiness, like when he lost his handle sprinting down the floor and leaving the ball behind, or when he came up short on a soaring dunk attempt in the second half, he did flash that classic Westbrook brilliance often. To cap a critical fourth quarter 8-0 run that took control for the Thunder, he skied for a rebound and then went coast-to-coast in a blink for a spiffy layup. 
Westbrook's playmaking was the difference for the Thunder as they held off a pesky Suns squad, averting a disastrous 1-2 start to the season and a home opening loss. Without the mercurial point guard in the postseason, the Thunder struggled with their halfcourt execution, often bogging down as opposing teams doubled and tripled Durant. It's not that Westbrook's presenc miraculously cured all of that. It was just simple mathematics. The Thunder added one of the top six or seven players in the world to their team and it made them a lot better. Nothing more complicated than that.
"He just made plays," Durant said. "We trust him in the pick-and-roll. Coach drew up some great plays for us and the best thing I thought about it was it wasn't just isos. Guys were moving from side to side, we were screening, guys were rolling and pulling over."
It's on the Thunder to build from here, though. Brooks promised the team it would be better for Westbrook's absence, that they'd improve upon their issues and once they had their All-Star point man back, things would run smoother than ever. I'm not sure that's going to be the case because from what I could tell not too much changed Sunday against Phoenix, outside of Westbrook just doing the things he does. 
Still, that might just be all the Thunder really needed.
Hayward will be in Miami this weekend, while Utah and Boston also have meetings scheduled

Sacramento signs Serbian to 3-year, $36 million contract while passing on Ben McLemore

Free agency is around the corner, which means there could be a ton of significant moves coming...
The Knicks still intend to trade Carmelo Anthony even with Phil Jackson gone

Paul George is a college football coach at heart

CP3, the Point God, is headed to Clutch City, and the NBA landscape has again flipped on its...