Rust and all, Bulls' Rose back, and 1st time out seems to be same blur
After 526 days, Derrick Rose returns from his ACL tear. So far, the speed and game are there, just in time to spice up the race to catch the Heat.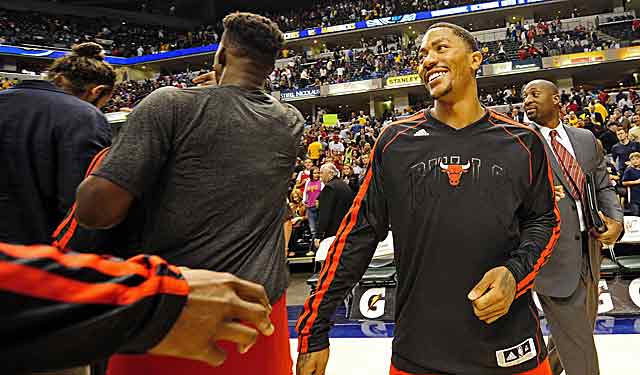 INDIANAPOLIS -- There wasn't really a signature moment for Derrick Rose, but on a night of over-the-top hype for a returning talent such as his, this would have to pass for one.
With 9 1/2 minutes left in the third quarter of his first game in 17 months, Rose picked up a loose ball near half-court. He gathered his dribble, focused his eyes on the basket. It was just Rose and the open court -- Rose and the rim.
He was back in his domain. The open floor, and the basket, were at his mercy again.
As Rose soared in for a breakaway dunk, the takeoff, finish and landing were all picture perfect. With that -- and with an assortment of other lightning-fast moves and a little rust, too -- the former MVP announced his return in a preseason statement heard 'round the NBA.
"I've been preparing myself for this moment for a year and a half now," Rose said at his locker after the Bulls beat the Pacers 82-76. "So [I was] just being prepared for this and continuing to go out there and know how blessed I am to be stepping back on the court again, especially with these guys."
As fast, dynamic and electric as ever, Rose reclaimed his place in the superstar stratosphere on Saturday night -- reconnecting with the game, reigniting our fascination with his one-of-a-kind gifts after so much time away.
"The speed and the power that he plays with," Bulls coach Tom Thibodeau was saying afterward, "there's no one like him."
Somehow, Rose's lengthy absence -- 526 days, to be exact -- only expanded your appreciation for what the game was missing. Seventeen months after tearing the anterior cruciate ligament in his left knee, Rose returned as simply a blur -- a vision of determination and basketball beauty that has been sorely missed.
Everything about his long comeback from ACL surgery was unusual, and Rose's first competitive game since the injury in April 2012 was just as weird. Banker's Life Fieldhouse roared to life when Rose's name was announced during introductions, red attire and loud Bulls fans occupying large chunks of the arena. The Pacers issued a stack of media credentials that was roughly equivalent to what they'd distribute for a first-round playoff game.
"Even though it's preseason, I appreciate they came out and showed their support and I hope they continue showing their support," Rose said.
In 20:26 of court time, Rose had 13 points on 5-of-12 shooting with three assists and four turnovers. But this milestone in his comeback wasn't about numbers, although this one stood out: Rose actually said that his vertical leap increased from 37 to 42 inches while he was away. It was a preposterous claim; I want to be there on the Berto Center court the next time they run that test.
This night was really about moments -- tests here and there that would reveal the question ultimately on everyone's mind. Would he still be the D-Rose of old?
A key snapshot came with 1:34 left in the second quarter, when Rose attacked the rim with the Pacers' Roy Hibbert lurking in his path. Hibbert met Rose at the apex of his drive and turned back his shot. Rose went down hard, his healthy right leg absorbing the contact with the floor.
As had always been the case before that fateful drive late in the 2012 playoff opener against the 76ers, Rose popped right back up.
"That's the way I've been playing in practice, just attacking," Rose said. "I'm not slowing down; I don't care who is in the hole or whatever. If they're going to foul me hard, I'm just going to get back up and continue to go hard at them. That's what I'm trying to get used to."
In some ways, marking Rose's return to competitive basketball as an event was a ruse. After taking the entire 2012-13 season to get his surgically repaired knee healthy, Rose had long since passed all the physical milestones that go along with ACL recovery. Nothing that happened on the court in this preseason exercise, it seemed, could surprise him.
Except, perhaps, his own speed.
"I have no rhythm," Rose said. "I was going too fast. I have to understand that and control my speed."
So the novelty of seeing Rose back on the court was for everyone but him. It was for the inquiring minds of the public and media. Most of all, it was for the rest of the powers of the Eastern Conference. Fittingly, it came against the team that was bequeathed the role of being the biggest threat to Miami in the East while Rose was gone.
"I'm really happy he's healthy," Hibbert said. "Win lose or draw, I want to compete against the best and he's going to challenge me, so I'm happy. It's going to be fun playing against that guy. He's going to push me to my limits."
Hibbert and the Pacers stepped into the Eastern Conference vacuum left in Rose's wake in the past two playoffs, pushing LeBron James and the Miami Heat to limits of their own. The Nets fueled the arms race by spending tens of millions beyond anyone else's capabilities this summer, but the Pacers got better, too.
After losing to the Heat in seven games in the Eastern Conference finals, look at what the Pacers got back: team president Larry Bird, who returned from a year off, and Danny Granger, a former All-Star who missed all but five games last season. Granger returned on Saturday night as well, to hardly any fanfare in his own arena. He was 2 of 10 and scored six points off the bench.
Speaking of the bench, Bird added Luis Scola, C.J. Watson and Chris Copeland to a reserve group that didn't measure up in the past two postseasons. They've followed the natural path for teams that grow together, fall short together and ultimately break through together.
Now Rose steps back into the narrative and changes everything -- as long as he's patient.
"There's going to be some rust, and you expect that," fellow ACL survivor David West said. "He can't hit a home run with this."
It's true; there will be plenty more milestones. His teammates have been without him for so long, and he without them, that it's going to take time to get reacquainted. But in May and June, no one will remember when Rose fumbled the ball out of bounds or fired an errant pass into the row of photographers along the baseline in his first game back after 526 days of inertia. They will remember what we really learned on this night, the essence of the frightening clarion call that went out across the sport.
Derrick Rose is back, and he changes everything about the power struggle in the East -- from Indiana to New York and all the way to Miami. He steps right into the void that he left behind.
Show Comments
Hide Comments
Series prices show Dubs light years ahead

Green responded that he's 'the modern day Draymond Green'

Our experts predict whether the Jazz can compete with Golden State, along with the rest of...
Breaking down key matchups as the second season reaches the conference semifinal series

Pierce's 19-season run in the NBA ended Sunday as the Clippers bowed out of the playoffs

Utah overcame its relative lack of experience with a balanced, deep and versatile roster