Ryan Anderson out two months, then could have neck surgery
Pelicans forward could have the same surgery Peyton Manning had done.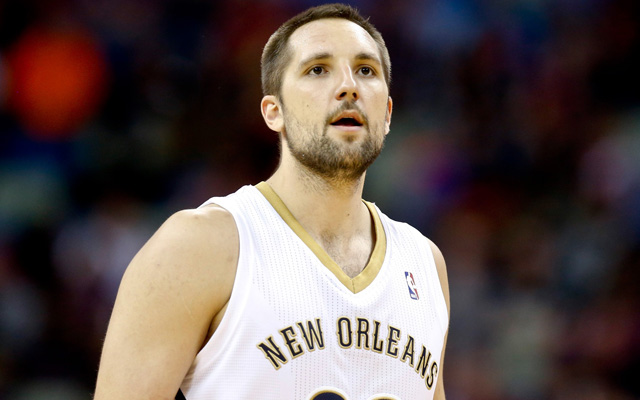 New Orleans Pelicans forward Ryan Anderson suffered a herniated disc against the Celtics earlier this month and is out indefinitely. Anderson told the media Tuesday that he'll be out at least two months, and that after that, doctors will consult with him on whether or not he'll need surgery. Via the AP:
"Obviously, I want to get back as soon as possible, but this is something that if I got hit again, it could be more than just career ending. I want to be careful about it," Anderson said, speaking publicly Monday night about his injury for the first time since it occurred in a collision with Bostons Gerald Wallace on Jan. 3. "Were going to find out pretty soon how its healing and depending on if its healing on its own, then well just keep going with that. But if not, well do the surgery."
via Pelicans Anderson unsure if hell need surgery.
The surgery would be similar to what Denver Broncos quarterback Peyton Manning went through, according to Anderson. 
It's a huge blow to the Pelicans, and could spell the end of their playoff hopes. Anderson missed the start of the season with injury, then returned just as Anthony Davis went down. The Pelicans lost Jrue Holiday to a stress fracture las week. 
Anderson is averaging 19.8 points and 6.5 rebounds this season for New Orleans. 
Show Comments
Hide Comments
The two best point guards in the East go at it in a series sure to be filled with drama.

Breaking down key matchups as the second season reaches the conference semifinal series

The second round of the 2017 NBA Playoffs tips off Sunday at 1 p.m. ET, with Game 1 of Cel...
The Spurs have homecourt advantage, and will host Game 1 Monday night at 9:30 p.m. ET

All-Star guard flew to Washington after Game 6 vs. Bulls to attend his sister's funeral Sa...

Some love for the Rockets over the Spurs, and at least one expert says the Cavs are going...