Sam Presti speaks to the value of keeping stars in international play
Thunder GM Sam Presti knows the value of having your stars in international competition. Look what it's done for the Thunder.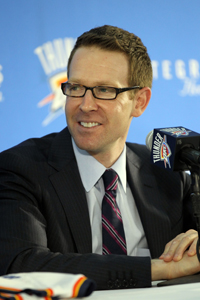 Sam Presti knows the good international competition can do.
(Getty Images)
Whether or not star players over the age of 23 should be in the Olympics after 2012 is a huge debate at the moment. It's going to take time to sort out, but both options are on the table, keeping the players in and limiting their involvement. They stand to face considerable opposition from the players, but NBA ownership has made it clear they're tired of their players being at risk to injury in a contest they don't stand to profit from.
Sweethearts that they are. 
So the players are against changing the rules, the ownership is at least partly in favor of it. Where does management stand? 
Sam Presti of the Oklahoma City Thunder hasn't decided his feelings on the subject as to what decision should be made, but he does see a clear benefit for the players. He'd know, with the Thunder having three players on the 2012 team and multiple representatives on the 2010 FIBA World's team. 
"I think it's really helpful for them to play under different circumstances; it only rounds them out as players and makes them better," said Presti, who also saw Durant and Westbrook win gold at the 2010 FIBA World Championship. "What we observed from the World Championship was just the mental endurance that it takes to go through an international competition and the training camp that leads up to it in medal-round play just to get there.

"Just the level of mental endurance that Kevin and Russell have been exposed to and conditioned themselves to, I think has really helped us in our playoff series. That's a real benefit. I think Serge's experiences with the national team, again just being in different situations and adjusting to different styles of play, I only makes him a more well-rounded player. And James now is also getting that level of experience. I really feel like we've benefited from all of the exposures that the players have been given, and I think they're all very grateful for the opportunity too. It's fun to watch them in these situations."
via Thunder GM Sam Presti OK with having four players at Olympics - Sam Amick - SI.com.
Presti's got a point, here, even though he's not advocating either way on the issue. 
Kevin Durant's leadership was brought forward by the experiences. His ability to function as more than just a scorer, and that development has been key for the Thunder's advancement. Just being around that caliber of player and learning their work habits is helpful for young players, havint expsoure to the best is a motivator. 
But it should be noted, both Durant and Westbrook would have been eligible regardless as they were under 23 at the World's. That may be the point. It puts young players in positions of leadership while still surrounding them with premier talent. The development Presti's talking about is still possible, even more so, with an under-23 team. But some players don't get selected until after they reach that mark, and maybe that's the best reason to keep things as is. 
Show Comments
Hide Comments
How do the Cavaliers flip the script for a second straight year?

Boston lacks the size, rebounding and rim protection necessary to take on bigger lineups

What happens when the Death Lineup comes in? Can Kyle Korver keep it up?
Fox is widely considered a top 10 prospect in the NBA Draft

This looks strikingly familiar, huh?

A very familiar Finals showdown is set to begin on June 1