Scott Brooks' Thunder sowing the seeds of progress
Scott Brooks has developed two of the top five players and led one of the youngest teams in the NBA to title contender, even after losing his third-best player. How is he not Coach of the Year?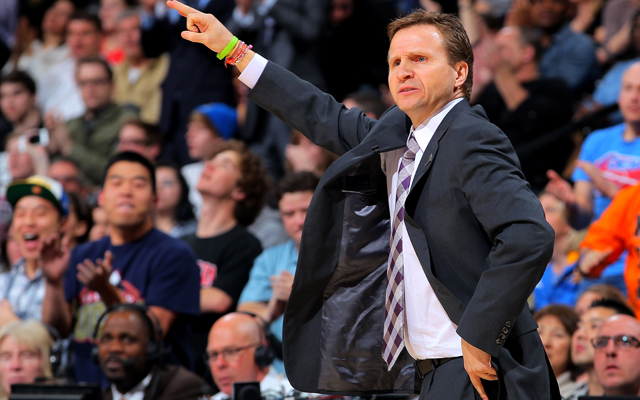 DENVER -- There's something fitting about the fact the Oklahoma City Thunder reside in the middle of farmland. Take the back roads on a drive there, and you'll roll through small town after small town, through fields of wheat beside houses where folks grow their own okra, tomatoes, and purple hull peas. People are proud of what they've grown and built. Crops, businesses, families.
And in the modern center standing in the middle of crop fields, like a real-life Emerald City, there's a different kind of crop booming. While everyone raves about the produce and how strong and valuable it is, how fertile that soil is, no one seems to notice that somebody had to grow it.
Meet Scott Brooks, the farmer of this golden crop, the Oklahoma City Thunder.
---------------
It's a Friday morning and I'm marveling at how different this Thunder team seems from what it was three years ago. I remember how young they seemed the first time I walked into their locker room, a bunch of kids dancing, laughing and joking. A lot of teams are boisterous in the locker room, but these guys gave the vibe of a team of youngsters fresh out of school. The truth is, they were, then.
Not so much anymore.
All-Star, superstar, and MVP candidate Kevin Durant saunters over during the pregame shootaround to drop off his gear: a Nike bag with his initials emblazoned in neon, and two pairs of custom Nikes. He's relaxed but sure of himself as he settles in to take questions from the media. He and Russell Westbrook now switch their availability at shootaround and pre-game due to the huge number of requests they get.
Durant entered the league as a super-thin shooter. His talent at Texas and before was undeniable; he was the easiest player to identify as a superstar in the making since he was in homeroom. But how many times has a player like that wound up as a one-dimensional jumpshooter? How many times have they lacked the additional things you need to translate into stardom?
Surely, the biggest cause of Durant's liftoff was his own talent and work ethic. But sometimes the best of potential goes awry. You have to put the team around him, and you have to work with him to improve.
That's where Brooks comes in.
Brooks is rarely talked about for his development chops, as if the Thunder just sprung up from the ground without cultivation. But turning good players into great ones is a process. Brooks is quick to acknowledge that turning these players into Finals contenders took a lot of work.
He's just not willing to take any credit for it.
"First, there's no question that we took a young group of men and developed them into who they are today," the 47-year-old former player says. "It took a lot of work. I wish I could take credit for that. But we have a staff that's committed to improving our players and we have players who are committed to getting better."
What can't be overlooked with the Thunder is that while Durant and Westbrook's evolution into top-10 players unquestionably led the most to their success, and savvy drafting and roster management pushed them along, Brooks and his staff had to have the team grow together, in the same plan.
But again, there's Brooks, deflecting his own success and crediting those around him.
"We've blended both individual and team improvement at a pretty good level," he says. "But I really believe our players are the reason for that happening, because they work every day, when we didn't think they were going to come with effort and energy because we got beat the night before in a large number. They came in every day and looked for areas to improve."
That farm community analogy works here, too, as Brooks is adamant everyone in the community has to pull together.
"You need a staff and an organization to put their hand in that and have everybody on the same page and that's what we have," he says.
So you have everyone contribute, and you focus on the process (a familiar refrain with the best organizations except the most successful, the Lakers, who focus only on results). Then what?
---------------
The word consistency appears relentlessly in comments from players and coaches. "What's been the key in a player taking a big step this season?" Consistency. "Why does this team struggle with defense?" Consistency. "What are you most frustrated with?" Our consistency. The refrain is the same, team to team.
But when you start with a group of players who can't even order a drink at the hotel bar, what do you do to establish that consistency?
Brooks says it doesn't start with what you ask of the players; it's what you ask of yourself.
"You have to be consistent yourself. You can't flip flop on your thinking and your philosophy and expect them to be consistent. We've had the approach that we're going to come to work every day. Regardless of last night's outcome, we're going to come and do our job every day."
It's evident in how the Thunder react post-game. They don't whine about the officials, ever. They always put it on themselves to be better. (It helps that they're second in the league in free throw rate, via NBA.com.) And they don't use youth as an excuse; there's no benefit to it for the team, Brooks says.
"We have a young team now, but we've had a young team for a while now. Next year we're still going to be young.
"So we want two things. First, we've never used our youth as an excuse, and the second thing is our young guys are really good. You can go out and draft a bunch of young guys and pick up or acquire a bunch of young guys, but if they can't play, in a couple of years they're just going to be a bunch of bad older guys."
Brooks does not have bad older guys. He has one of the most talented rosters in the league. However, plenty of teams have featured talent but not the mind set. Brooks credits the leadership of his stars for setting the tone for the team.
"We have really good players that (GM Sam Presti) has put together, and we've developed them," he says. "Russell and Kevin have done a great job at leading. And they deserve a lot of credit, because there's not a lot of young guys who are put in the position to lead a bunch of young players and have the kind of success they've had over the last few years.
"I've only seen one player in the history since I've been following the game (do that) and it's Magic, who led as a rookie. That's very rare. Kevin and Russell have led at 19-years-old, 20-years-old, going on five or six years."
Durant could be the best leader in the NBA and it still wouldn't match his on-court contributions this season. Should Durant keep up his current pace and wind up with the scoring title, he would be the first player in NBA history to average 50 percent from the field, 40 percent from 3, and 90 percent from the free-throw line, the vaunted 180 mark, while leading the league in scoring. Brooks, a shooter back in his playing days, appreciates how remarkable that is.
"They always say to try and be a 170 shooter, 50-40-80, Kevin's got those up near 190," Brooks says. "Those are numbers that have only been seen by a few players.
"Usually you lead the league (in scoring), you're a volume shooter and your percentage isn't as high. He's very efficient. He's going to be an MVP candidate for a decade going forward. He just has the game and ability and the toughness to compete night in and night out. And he's prideful. He works alongside all our guys to get better. You look at how smooth he is and how it seems effortless, but that guy puts a lot of time into getting better."
That's something that has to be constantly repeated despite how obvious it is. Kevin Durant, scoring leader, MVP candidate, Finals competitor is still getting better. Brooks says the star takes that seriously.
"Kevin's playing at an MVP level but we still challenge him to improve," the coach says. "I didn't think he was going to come back much better from last season's MVP type of year, but he came back better. And I think that's a true testament to the work he puts in all summer long."
Having Durant is certainly reason No. 1 for the Thunder thriving. But their consistent success is also a reflection of their coach, especially this season. Brooks is rarely mentioned among Coach of the Year candidates, but when you consider the Thunder were forced to (or opted to, depending on your viewpoint) trade their third-best player, James Harden, before the season started, Brooks needs to be up there.
Brooks is hesitant to talk about what he told his team the day after Harden was traded to Houston, not wanting to allow light to escape the iron curtain the Thunder notoriously keep to the outside world. But he does say actions spoke louder than words.
"I don't want to get too personal," he says hesitantly, "but it was more of not what I said but what I did. The next day we went to practice and did our job. Back to work. The players responded. There's no question James is a terrific player; he's having an All-Star year. But we have a lot of good players here that are moving this thing forward and we still expect to get better for many years."
They've gotten better this year. Durant's rebounding and assists are up, and Westbrook's playmaking has skyrocketed this season to cover for the loss of Harden. Harden may have brought something special to the Thunder, but the evolution of Serge Ibaka and the addition of Kevin Martin have helped to not only mask that absence, but also help the Thunder create a different model of title contender.
What more do you want from a Coach of the Year than to be put into difficult circumstances and coach the players up to this level?
---------------
The Thunder are still chasing that ultimate goal, the one true mark of success in the NBA: a championship. But progress is the real currency in why they impress so much. The players have become better. The team learned how to win. It has taken a step forward each season, from lottery team to playoff team to Western Conference finalist to the Finals.
And while the evolution of Durant and Westbrook will get the most attention, the team has also progressed. Not just from a results standpoint, but in what it does. Part of what mystifies analysts about the Thunder is how simple their sets seem to be.
"It's all just isolation for Durant or Westbrook!" is the cry, which even I've fallen into. I spoke with two elite defenders this season who both commented that OKC is one of the harder teams to defend at a team level, not just because of their players' supremacy, but the way their sets spread the floor and are executed so well.
Brooks says the perception that the Thunder are simplistic is something they've designed intentionally.
"I think myself and our players have done a good job at making people think that we're very basic," he says. "That's always been the gameplan. We're a good scoring team, not because we run simple things. We have good players, but we run our sets, we have good execution and we have good set-up guys. [Kendrick Perkins] and Nick Collison, there's no stat for this, but [they give] screens that help you score. I'd have to say they're two of the best in the league. They get a lot of points for Russell and a lot of points for KD just off their screens.
"And that's improved. Maybe four or five years ago, we were vanilla, but when you're working with a group of 19-year-olds, you better be vanilla. You have to be able to master those simple principles of offense and defense before you can take it to the next level. Our guys are very high basketball IQ because of the time they've put in on the practice floor and the playoff experience they've had the past three years."
Oklahoma City has adjusted to the loss of Harden and looks primed for another return to the Finals. The road is not easy with a hellacious Western Conference playoffs upcoming and the Spurs their toughest challenge, still holding the No. 1 spot in the conference. And there's the little matter of Miami and getting past the team that kept them from the goal last season. But Brooks' concern isn't any of that. It's keeping the team married to what got them here.
"We work very hard at building everything we do together, and that's been my focus every practice, building our habits together. I don't ever want to lose that part of our identity. I love that about our team. I never want our guys to ever take that for granted. So we work hard to maintain that."
So with the kids having grown into men, the potential having developed into superstars, and the little-team-that-might having become a juggernaut, does Brooks ever look back to when he took over as interim coach four season ago and marvel at how this crop grew out of the plains?
"You have to stay in the moment. Because if you don't, you lose what you're doing, and you lose the importance of day-to-day experiences. I believe in our players and in our relationships. If you don't have the relationships, what good is what you're doing? I need the players and the players have done a good job of accepting the coaching.
"I know what we've done in the past five years has been something I'm proud of. I'm proud of the guys finding areas and moments to find areas and moments through each day, each practice to find ways to get better. There's a lot to be proud of here."
Newest Brooklyn Net isn't concerned with his old organization's leader

The diminutive All-Star was among the league's worst defenders during the 2016-17 season

We've seen huge favorites before, but this is something else
Buddy Hield and Willy Hernangomez round out the first-team selections

Chris Paul and Patrick Beverley complete the first team

Allen Iverson is someone Tyronn Lue would want on his coaching staff