Series in Review: Spurs extinguish the magical run of the Warriors
After torching the Denver Nuggets in the first round, the San Antonio Spurs were able to extinguish the Golden State Warriors in six games.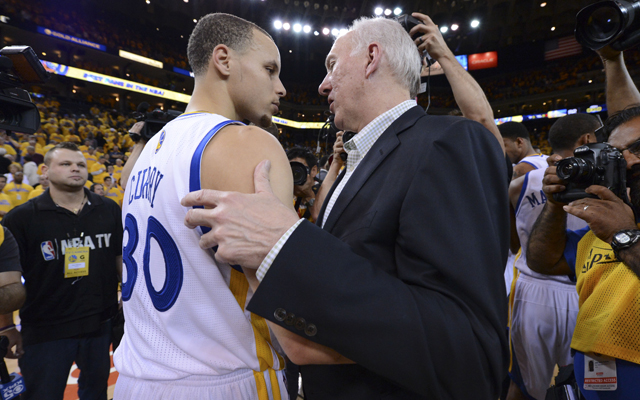 It would be easy to classify what the Golden State Warriors did this year and what they did in the first round of the playoffs against the Denver Nuggets as a "Cinderella run." We didn't really expect them to truly be as good as they were. Many didn't expect them to upset a higher seed in the first round of the playoffs. We didn't expect them to continue to shoot the ball the way they did game after game after game. But I think to say that they were a Cinderella run would downgrade their accomplishments. 
The Golden State Warriors are a really good team. They aren't a great team yet, but they look like they're headed in that direction. It's easy to chalk their success this season up to fortune, but really they just tried to play the game they played all season long. They're a 3-point shooting team because of their top two shooters and they're a team that tries to beat you with defense, rebounding, and shooting from where they're comfortable. 
Where they finally showed weakness in these playoffs was the San Antonio Spurs made them get away from their comfort spots. They also crowded the comfort spots where the Warriors like to try to score and made offense difficult for Golden State. That's what the San Antonio Spurs are good at doing; they take away what you like to do and ask you to beat them a different way. For the Warriors, that way would have been dribble penetration to the middle of the floor and movement to make the Spurs' defense rotate. That didn't happen enough in this series. Instead, the Spurs executed like they often do and earned a series win in six games. They head to their second straight Western Conference Finals to exact revenge on the Memphis Grizzlies .
Series MVP
Tony Parker . Not even a bad Game 6 could keep Parker from being the best player in this series. Parker had three points on 1 of 11 shooting heading into the fourth quarter of Game 6. That's when he finally busted through with two backbreaking 3-pointers and 10 points in the quarter overall to close out the Warriors in Oakland. For the series, Tony Parker played more like Stephen Curry than Curry did. He assaulted the defense with pull-up jumpers. He got into the lane for key shots. He shot 45.5 percent from 3-point range for the series (granted on a lot fewer attempts). He averaged 22.5 points, 6.2 assists, and 4.7 rebounds in the six games. He kept attacking the Warriors' defense and put the pressure on them almost every game.
X-Factor
Danny Green and Kawhi Leonard . You can't say enough about the job Danny Green and Kawhi Leonard did defending Klay Thompson and Stephen Curry. This was the best 3-point shooting duo in NBA history this season and they found ways to really torture opposing defense throughout various moments of the playoffs. Curry shot just 35.2 percent from 3-point range in this round and while Thompson made 54.2 percent of his threes, he was just 5 of 15 from 3-point range in five of the six games. His 8 of 9 performance in Game 2 really boosted his percentage for the series. The Leonard-Green combination stuck to the shooters beautifully, negotiated screens almost flawlessly, and took away the biggest strength the Warriors had.
The series was over when ...
The Warriors had multiple 3-point attempts rattle in and out during the fourth quarter of Game 6. This series was still very much in doubt 4.5 minutes left in this game. The score was 77-75 with the Spurs hanging onto a lead. Curry and Thompson both missed midrange jumpers. With less than two minutes left, the Spurs had increased their lead to six. Thompson then had a 3-pointer rattle in and out, the Warriors grabbed the board, and Curry followed up with his own 3-point miss that rattled in and out. Firing those blanks were what finally decided the series.
Key moments
If Danny Green misses this shot in Game 1 and the Warriors steal the first contest in San Antonio, does Golden State end up winning this series? It's impossible to know. It's impossible to know if Thompson still has a lights-out shooting performance in Game 2. We don't know if carrying that momentum from beating Denver through the entire Game 1 against the Spurs would have changed the series. But that's what the Spurs are so good at doing. They needed a big three to extend the game and quell the charge of their opponents. That's exactly what they did in Game 1 and ended up with one of their four victories.
Looking ahead for Golden State
Before the season, many people predicted that a healthy Warriors team was a playoff team. The funny thing is they weren't that healthy and they still made the playoffs. Once they did make the playoffs, they slayed a 57-win team and took Gregg Popovich's team to six games in the second round. Can they get an entire season out of Curry and Bogut? If they do, does David Lee perfectly complement those two? Has this playoff run accelerated the development process of rookies like Harrison Barnes , Draymond Green , and Festus Ezeli ? The Warriors still have a lot of questions as an organization, but there's a much clearer answer ahead of us.
Jarrett Jack is an unrestricted free agent. Richard Jefferson ($11 million), Andris Biedrins ($9 million), Carl Landry ($4 million), and Brandon Rush ($4 million) can all become free agents if they want to. But other than Landry, they'd all be foolish to give up that kind of money. The Warriors have flexibility with Bogut's expiring deal, Curry having the best non-rookie contract in the league, and four of their core players under rookie deals. If the Warriors want to trade assets, they have the flexibility to do so.
If the Warriors want to pay the luxury tax next year, re-sign Jarrett Jack (assuming he is willing to not start), and then wait for nearly $40 million to come off the books for the summer of 2014 to add another big name or two to this incredible core, they can do that too. They are set up for the future as well as any team in the NBA... as long as they can remain healthy.
Looking ahead for San Antonio
The Spurs head into their second straight Western Conference Finals and their eighth since Tim Duncan joined the team. While it should be business as usual for them, this upcoming series could be a bit different. They get a chance at redemption against the Memphis Grizzlies, who knocked the Spurs out in a rare eighth seed over a one seed upset in 2011. The Grizzlies' style of play wasn't too well known at the time. They used their strength and defense to capitalize on a Manu Ginobili injury and a Spurs team that wasn't quite set with their new style of offensive brilliance, as opposed to the defensive masterminds they previously played like.
This time, the Spurs get a chance to show just how comfortable and healthy they are against the Grizzlies. This is also a comfortable Grizzlies team though. The chemistry between Marc Gasol , Zach Randolph , and Mike Conley has never been better. As of right now, the Grizzlies have role players knocking down shots. And the more the Grizzlies go big, the more the Spurs have to play Tiago Splitter , who could be overmatched in a big way.
Gregg Popovich and Lionel Hollins will match wits. Tony Parker will have to deal with Tony Allen and Mike Conley will have to deal with Kawhi Leonard and Danny Green. We will see a chess match turn into a tug-o-war competition. We'll get to incredibly fascinating styles contrast against each other every game. It's going to be a lot of fun.
Show Comments
Hide Comments
Will Iggy stay with Golden State? Does anyone have any idea what to do with Derrick Rose?

Hoiberg was asked about Isaiah Thomas possibly carrying the ball during Game 5

Celtics point guard does not need anyone to hype up his defense
The Bulls had it, they had it ... and ... it's gone

The Bulls found they were without hot water following their Game 5 loss

Wall finished with 20 points and 14 assists in win over the Hawks