Seven options that make sense for Joe Johnson after Nets buyout
The Thunder, Raptors, Rockets, Cavaliers, Heat, Hawks and Celtics are all reportedly interested in him.
• 2 min read
The Brooklyn Nets announced Thursday that they have waived veteran guard Joe Johnson after the two sides reached an agreement on a buyout of the remainder of Johnson's contract. The Oklahoma City Thunder , Houston Rockets , Cleveland Cavaliers , Toronto Raptors , Boston Celtics , Atlanta Hawks and Miami Heat will all reportedly be interested in adding him for the stretch run. 
Previous reports indicated that Johnson wanted a multiyear extension with the Nets, not a buyout. Perhaps new Brooklyn general manager Sean Marks has convinced him otherwise. 
It has never made a ton of sense for Johnson to stay with the Nets. He's 34 years old, and they desperately need to rebuild. While Johnson struggled throughout the first couple of months of the season, he has scored efficiently since the beginning of January and could help a playoff team. Let's have a look at the possibilities.

Detroit Pistons
Imagine a fourth-quarter lineup of Russell Westbrook , Cameron Payne , Johnson, Kevin Durant and Ibaka. The Thunder have been looking for another two-way wing player for years, and he would fit right in and give coach Billy Donovan flexibility he didn't have before.

Detroit Pistons
This team could use a spark, and general manager Daryl Morey loves to make in-season moves like this. He won't fix the Rockets' broken defense, but he could be a extremely effective as a third or fourth option.

Detroit Pistons
It's no secret that the Cavs are interested, and this would be Johnson's surest ticket to the NBA Finals. Whether starting or coming in off the bench, he would give the Cavaliers some stability on the wing and yet another playmaker.

Detroit Pistons
If you play him with DeMar DeRozan , few teams will have the wing defenders to deal with both of them on the block. If they can acquire Johnson and get DeMarre Carroll back in the lineup soon, they'll go from somewhat thin on the wing to having an embarrassment of riches. 

Detroit Pistons
There's already a roster spot available because David Lee is gone, and he could basically do what Evan Turner does but with better shooting. The only issue is that it's already tricky for coach Brad Stevens to divide the minutes. 

Detroit Pistons
A return to the Hawks makes a ton of sense basketball-wise if Johnson is open to it. Their bench desperately needs a boost, especially on the wing, and he'd get to play in a system with tons of ball movement for the first time since he days in Phoenix.

Detroit Pistons
The Heat need ballhandling with Beno Udrih and Tyler Johnson out, and they've had a shooting problem all year long. I like the idea of Johnson and Luol Deng playing together in smallball lineups.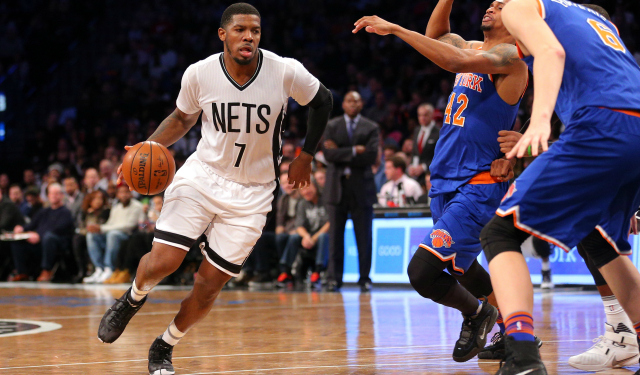 Show Comments
Hide Comments
Our Latest Stories
The Black Mamba and the King both show respect for the Big Ticket.

Confidence is a good thing, but he's getting a little ahead of himself here

That doesn't mean he won't eventually join the protests
He's played just 44 games over the past two seasons

Bosh's outlook for returning to the court is becoming more and more complicated

Pelicans star says he wants to stay, but honestly, that doesn't mean anything