Shawn Marion could return Friday
Shawn Marion could return Friday from an MCL sprain.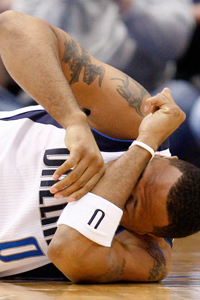 Shawn Marion could return Friday. (Getty Images)
Shawn Marion has missed the past 11 days with an MCL injury, and the Mavericks have hit the skids ever since. But they could get Marion back for Friday's game against the Pacers. From the Fort Worth Star-Telegram:
"I don't want to jump out there and just tweak it even more and I have to sit out even longer," Marion said after Thursday's practice. "I can play through some pain. I just don't want to have to favor it too much and be cautious of that at the same time."

The plan coach Rick Carlisle has for Marion is for him to go through the shootaround this morning. If he feels good afterward, he will play. If not, he'll miss another game.

"He's doing better, but again we're not saying he's going to play for sure," Carlisle said. "We don't know. We need him to keep making progress."
via Dallas Mavericks' Marion taking a cautious approach | Dallas-Fort Worth Sports News - Sports ....
We'll see how he feels. 
The Mavericks need Marion badly, and not just for defensive purposes. He fills in the gaps offensively and makes the kinds of decisions the Mavericks need a player to make. They just don't have the depth with Dirk Nowitzki still out to keep their head above water, though they've done a terrific job. Marion would also be helpful against Indiana to guard Paul George, maybe the Pacers' second-best offensive threat behind David West. 
Show Comments
Hide Comments
Celtics reverse course in Chicago; Pacers head home

Our NBA experts predict the first round of the postseason

Can the Clippers close the series without Blake Griffin?
The playoffs are starting to heat up

The Cavs are the first team to move on to the next round

Our experts predict every series in the 2017 NBA postseason