Should Cavs start Anthony Bennett to help him through struggles?
Cleveland considering starting No. 1 pick to help boost his confidence and work through struggles.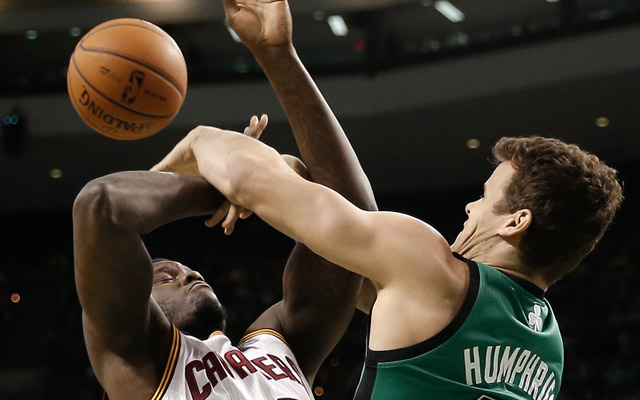 The No. 1 pick in last June's draft is struggling. And I mean, struggling. Anthony Bennett is averaging two points in 11 minutes per game for the Cavaliers, shooting... 22 percent from the field and 26 percent from three (and taking three 3-pointers per game!). He's battled conditioning issues that developed while he was out after shoulder surgery. He was diagnosed with asthma and sleep apnea. He looks lost and overwhelmed.
It hasn't gone well. 
The Akron Beacon-Journal has a plan, though. What if starting the hefty youngster could snap him out of it? Cavs coach Mike Brown has even thought about it already:
"Where we're sitting record-wise, I think I have the right to change my starting lineup every game if I feel the need," Brown said.

Brown briefly discussed the idea of starting Bennett at small forward before Friday's loss at Boston. He said he wouldn't do it just to start flinging ideas against the wall, that the move had to make sense and he had to "feel it."
via Jason Lloyd: Starting Anthony Bennett at small forward not as silly as it sounds - Cavs - Ohio.
There are some upsides to this, giving him the confidence that trust provides. But there's also a huge downside, putting a guy who's struggling even further under the spotlight, putting more pressure to live up to teammates who may resent him not for getting the starting spot but for struggling to learn the game while they're trying to get the train wreck that the Cavs have been right. 
A better option? Send him down to the D-League. This is why you have an affiliate. Send him down, let him get in shape, let him work on NBA sets, let him recalibrate, and then re-integrate him. He's a No.1 pick? All that means is that it's more important to use the development tools at their disposal. 
Bennett's got his entire career in front of him, and there's no reason to bail on his potential yet. But they need to be considerate with the approach they take. Ruin him early an he may never recover. 
Could this have an effect on Carmelo Anthony's future in New York? What about Kristaps Por...

Chicago needs to decide whether to pay Rondo $13.4M next season or buy him out for $3M

Rose played in 64 games for the Knicks before a season-ending knee injury
Durant chose an odd way to shout out his former OKC teammate

Teams are reportedly trying to bring in the veteran forward in an effort to weaken the War...

LeBron has reportedly already ruled out any chance of joining the Clippers