Silver: League might consider 'subsidies' for student athletes
NBA commissioner says the league will be part of a three-way conversation with athletes and the NCAA about raising the age limit.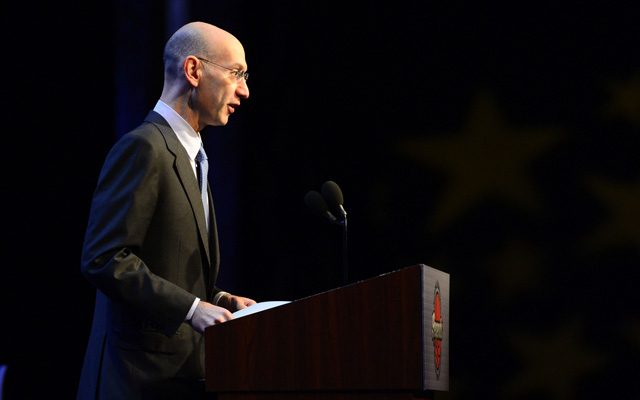 More NBA: Power Rankings | Expert Picks | Seasons in Review | Playoff Picture
NBA commissioner Adam Silver, speaking at a business convention Wednesday in New York, said he's open to the idea of "subsidies" for student basketball athletes in college in order to ease their circumstances and allow for the increase to the NBA's age minimum he has been pushing since taking office Feb. 1. From ESPN: 
NBA commissioner Adam Silver is so intent on keeping basketball players in college for another year that he said the NBA might consider subsidizing athletes to make them feel better about staying.

Commissioner Adam Silver says the NBA might consider subsidizing NCAA athletes to encourage them to play another year in college.

Raising the age limit for the NBA draft from 19 to 20 years old would require the approval of the National Basketball Players Association as part of the collective bargaining agreement, but Silver said Wednesday at the Brooklyn Nets and Barclays Center Partner Summit that he was willing to work with the NCAA to give athletes a more fair deal.

"Rather than focusing on a salary and thinking of them as employees, I would go to their basic necessities," Silver said. "I think if [Connecticut Huskies guard] Shabazz Napier is saying he is going hungry, my God, it seems hard to believe, but there should be ample food for the players."
via NBA commissioner Adam Silver says subsidizing NCAA athletes a possibility - ESPN.
Silver also mentioned covering attendance gaps and providing insurance for the athletes which would cover the most widely held fear from those considering returning to school, the risk of injury.
It's a startling move by the commissioner, as the NBA has long held a "hands off" approach with the NCAA and how it conducts business. But attitudes are changing about the equal rights protection of student athletes under the current system, even as the NBA deals with what it perceives to be an influx of players unready for NBA life or games.
Silver has been bringing the hammer about the age limit, constantly pushing for it and making it clear he's serious on the matter. He's going to get this done, come hell or high water, and now he's trying to sweeten the approach to help push it through.
The concept is wrought with complications however, which is why Silver only said the league is "considering" it. What happens then with football players? Would this "guilt" the NFL into providing the same, this time for a much higher number of athletes? What about athletes without a professional league to miss out on?
And would the subsidies really be enough to placate people over the fact that players are missing millions of dollars by not being allowed to go pro?
Either way, it's a startlingly progressive move from a commissioner who is very quickly indicating he intends to conduct league business in his own new way.
HT: HoopsHype
Show Comments
Hide Comments
The future Hall of Famer opened up about his post-NBA life

Boston's star guard addressed the media for the first time since his sister's death

What does a first-round sweep mean for PG13's future in Indiana?
Celtics reverse course in Chicago; Pacers head home

Our NBA experts predict the first round of the postseason

Can the Clippers close the series without Blake Griffin?