Six thoughts on Cuban's suggestion that the NBA extend the 3-point line
The Mavericks owner has an idea to make the game more fun by increasing offensive versatility, and he's got a point.
Dallas Mavericks owner Mark Cuban has a suggestion for improving play in the NBA, as he told reporters Monday that he feels moving the 3-point line back would help the league in diversifying play styles. From ESPN: 
"It's getting too close," the Dallas Mavericks owner said Friday night of the 3-point arc, which is 23 feet, 9 inches at the crest and 22 feet in the corners, where there is no room to move it back. "Guys are shooting a foot behind it anyways. ... That's something we should look at. It's worth looking at.

"I don't think the number of shots would decline, but I think it would reward skill and open up the court some more. So guys would still take [3-point] shots if it's seven inches back or whatever, but at the same time, it opens up the court for more drives, more midrange game."

"I think it'd open it up more so guys with different skill sets could play," Cuban said. "It would open up play for more drives. Guys with midrange games would be rewarded and that would stay in the game. There would be more diversity of offensive action in the game.

"You'd see a little bit of decline in the 3. I'm not saying it's a bad thing that we shoot so many 3s, but it's worth it in the D-League to see what happens [with a deeper 3-point line]."
Source: Mark Cuban of Dallas Mavericks says NBA should mull moving 3-point arc back. 
This is actually a pretty terrific idea. It has some ups and downs like any idea, but overall it's very intriguing. Some thoughts: 
1. Fans love long 3-pointers. Absolutely go bonkers for them. It's why Steph Curry's 35-foot flings are so popular. Would they be as popular with the line extended? This is a serious question to ponder. Is the impressive thing about those shots the distance, or the distance from the 3-point line itself? 
2. The diversity thing is important. Once coaching assistants (and in large part, GMs) discovered that it turns out three points is more than two, the value of a mid-range shot has gone kaput. Why take a mid-range shot you're going to make roughly 38 percent of the time if you're decent at it, when you can take a 3-pointer and get more points at a much higher relative percentage? The debate then becomes "yes, but if you're open on the mid-range shot vs. shooting a contested 3-pointer" which is responded to with "yes, but if you're taking that shot it's usually off the dribble which is a lower percentage shot" and on and on. Moving the line back would force defenders to cover more space, which would result in more variety of offense. 
3. Part of what Cuban's getting to here is that with the current game, there are really only two good shots: Launching a 3-pointer, or a layup/dunk. The inefficiency of mid-range shots simply doesn't make them viable. By increasing space, you'd see more opportunities for distanced post-ups and floaters as well as the dreaded pull-up mid-range jumper. 
4. There is a question of whether forcing defenders, particularly bigs, to cover more space is a good thing, though. They're already having to be more versatile than ever, and in reality, there's only so much space you can truly defend, based on the fact that a defender cannot predict with absolute certainty where his opponent is going to move. It could wear out defenders more. 
5. Scoring is also not really a problem for the league. Teams are scoring at extreme efficiencies, and at a high volume this season. That's not really what Cuban's talking about, but measures that would "open the game up more" and make it harder for the defense to get stops are only going to exacerbate how much the league has slanted in an offensive direction. That's what fans want, but there is a tipping point where it starts to feel like it's simply a shooting exhibition and not an "offense vs. defense" game construct. 
6. As Cuban mentions, it's less about trying to disincentivize 3-pointers, and more to incentivize versatility. The Warriors, for all their brilliance, are really only defined by three types of shots: layups/dunks, catch-and-shoot 3-pointers, and "Steph Curry does something insane." If a player could have more options to develop his game, it would be at least interesting to see what comes out of it, rather than players trying to shoehorn their games entirely to fit a preconceived model of efficiency. 
It's unlikely Cuban will get much traction on this; the NBA is hilariously slow in adopting changes to the game -- see Hack-A strategies -- but it's certainly a fascinating conversation.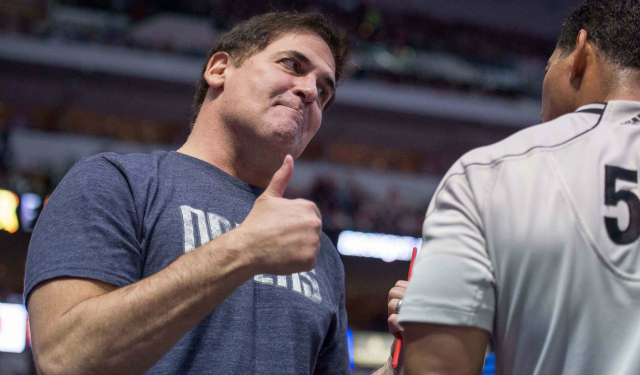 The 24-year-old swingman will become an unrestricted free agent

The youngster hit Oladipo with a nutmeg during a one-on-one game at Oladipo's camp

The Cavs will be looking to upgrade their squad after their Finals loss to the stacked War...
Denver is reportedly also in talks on a three-team trade that would send them Kevin Love

Barclays Center hosted the BIG3's inaugural slate of games on Sunday, with The Answer as a...

Pierce was drafted 10th overall by the Celtics in the 1998 NBA Draft