Sixers-Bulls Game 5: Chicago's 'Walking Dead' survives to fight another day
The Bulls won Game 5 to extend their series with Philadelphia to a sixth game. Are they just postponing the inevitable or proving that they can win ugly no matter what?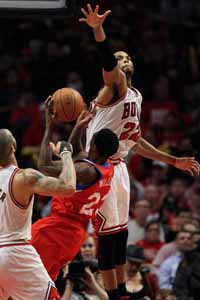 The Bulls survive. Again.
(Getty Images)
SPOILER ALERT: If you're a fan of the AMC series "The Walking Dead," you should bail on this post right now. 
The secret to the title of the popular graphic novel and AMC television horror-drama is that the title isn't actually in regards to the undead creatures  slowly shuffling their way across the post-apocalyptic countryside hunting a sherriff and the ragtag group of survivors, picking them off one by one (and sometimes in bunches). It's in regards to the people forced to try and live day-to-day with the constant threat, the struggle of having no resources, hunted by the fiends and dealing with grief only when finding a moment's respite from the fear, making impossibly hard choices that go against accepted moral codes in the interest of survival. 
The famous line which has yet to be uttered in the show, but will eventually, is "Don't you see? It's us! We're the Walking Dead!"
That's the
Bulls
. They're the Walking Dead.
Against all odds, without
Derrick Rose
, without
Joakim Noah
, the Bulls beat the Sixers Tuesday night 77-69 in the bleakest, dreariest home win you can imagine for a No.1 seed. The Bulls shot 42 percent from the field. They had an 82.1 offensive efficiency. Their starting backcourt went 5-19. And they won.
They won with defense, with
Taj Gibson
blocking everything at the rim, with
Luol Deng
scoring 24 on a bad wrist. They won by tearing the Sixers' ball rotations to pieces. The won with closing off angles, and forcing tough shots, and making tough baskets. It was grotesque basketball that melted off your screen. It worked. 
So the Bulls survive, and force a Game 6 in
Philadelphia
. And given the Sixers' total disinterest in closing out a team without two of its best players and with little to play for, relatively, they can win. Do that, and it's Game 7 at home. And they can win that. What then? It's Boston, or Atlanta, both teams with their cores intact, having the momentum to believe they can make a run at shocking Miami.  
And maybe the Bulls can shock those teams, catch them off-guard with their defense and get
Carlos Boozer
to finally step up in a series. Make a run at Miami.
The real strain of living in a world where zombies roam the Earth and outnumber you a million-to-one is the inevitablility of it. Is it really worth going through the emotional and physical turmoil, just to try and survive? And yet, the characters do, and so do the Bulls. Because that's what we as humans do and that's what the Bulls as a team of professionas do. They're programmed to try, programed to win, programmed to never surrender and win, no matter how ugly it was.
Game 5 was disgusting, but that's how it's going to have to be. A total horror show for both teams for 48 minutes, with the Bulls inching and clawing their way to a win with defense, effort, and hustle. It's all they have left. Derrick Rose was their hope. All they have left is the instinct to survive.
Game 6 is Thursday.
Shaq doesn't like LaVar Ball and makes sure everybody knows about it

The Pacers took major advantage of the switch to Nike

If anybody knows what it's like to play with the best it's Scottie Pippen
20 teams have reportedly inquired about Irving's availability, with six already making off...

Wiggins is in the final season of his rookie deal and will be a restricted free agent in 2...

Brandon Jennings will not start off next season in the NBA