Sixers-Bulls Game 6: A win by any another name
The 76ers beat the Chicago Bulls Thursday night to advance to the Eastern Conference Semi-Finals against the Boston Celtics. They won against the Bulls without Derrick Rose. What do they take away?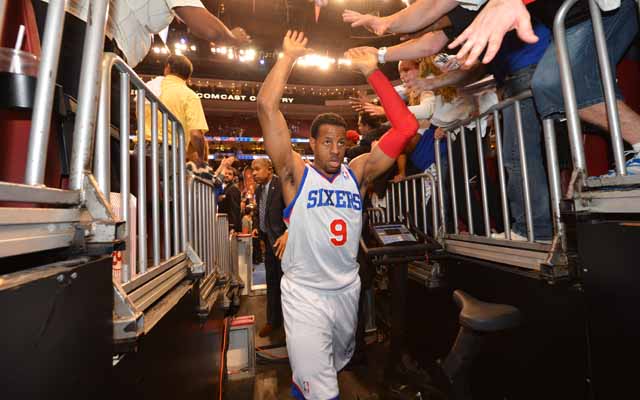 Andre Iguodala gave the Sixers a hand and won Game 6.
(Getty Images)
The Philadelphia
76ers
didn't ask for this to be the way. They never wanted
Derrick Rose
to be injured. And somewhere in the back of their minds, they know that this series would have likely gone dramatically differently had Derrick Rose not torn his ACL in Game 1.
But he did, and it didn't, and C.J Watson passed and
Omer Asik
missed free throws and
Carlos Boozer
made this face and Philadelphia is moving on.
The Sixers pull an upset, that no one considers an upset. They advance, without much of any momentum. If anything, needing six games and two blown free throws and then a call on an obvious foul makes them look worse. The Sixers' season seemed to be limping to a mortifyingly embarrassing end with the Bucks taking over the eighth. Now Philadelphia will begin the second round this weekend.
It's not how the Sixers wanted it, but it's what they get, and they should be and will be grateful for it. This is the playoffs. It doesn't matter how you advance, it's that you advance.
The Sixers face a Celtics team with more experience, who beat them for the division title, who will be heavily favored, and have more talent. The Sixers barely survived against a team without its best player and starting center,
Joakim Noah
. Can they challenge Boston?
The obvious answer is no. Not at all. But we've seen stranger things in the playoffs. Philadelphia has a seven-game series to prove that they aren't just here because of the Rose (and Noah) injuries. They have a seven-game series to shock the world. They didn't ask for it to come like this. The best thing they can do now is prove they belong.
The Sixers got some positive things to go their way in this series.
Spencer Hawes
stepped up.
Evan Turner
showed flashes. The defense plays well enough and that will be a huge factor in what is going to be the ugliest playoff series, maybe in
NBA
history against the ugly, grind-it Celtics and a Sixers team without a real dynamic offensive threat. The depth worked against a deep team. They'll need all that and more to beat Boston and ruin the "Boston vs. LeBron" narrative that every old-school writer is going to be foaming at the mouth for.
It's improbable. It's unimaginable. It's ridiculous. A lot like the idea the Sixers would beat the
Bulls
. They can't get the same kind of unfortunate luck they got in the first round. But they're going to get a chance to something else improbable.
Show Comments
Hide Comments
Kerr's health situation is worse than previously thought

Golden State has a 3-0 lead heading to Portland on Saturday

The playoffs are starting to heat up
Our experts predict every series in the 2017 NBA postseason

Our NBA experts predict the first round of the NBA postseason

The Warriors continue to roll without Durant