Sixers GM Sam Hinkie: Joel Embiid out 5-8 months, not 4-6
Philadelphia general manager Sam Hinkie said Joel Embiid's return from injury will be later than expected.
• 1 min read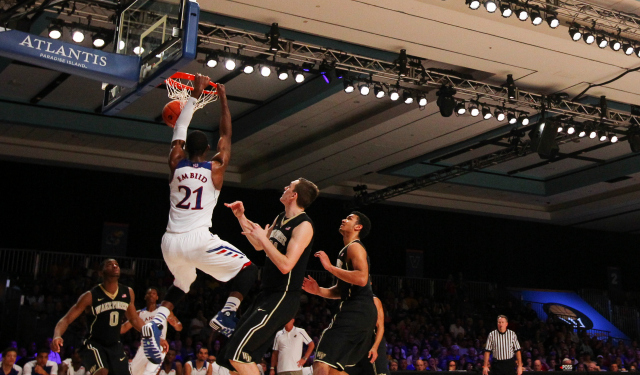 More Offseason Analysis: Coaching changes, news | Free Agency | Draft
Philadelphia 76ers general manager Sam Hinkie told reporters on Friday that No. 3 pick Joel Embiid will be sidelined for five to eight months, not the previously reported four to six months, after surgery on his fractured foot, via CSN Philly:
"Timeframe -- I've seen reported some 4 to 6 months -- that's not the number that I've heard," Hinkie said. "The number that I've heard from the surgeon himself was 5 to 8 months."

…

"Guess what our approach will be? We will focus on the long-term health of the player," Hinkie said. "We've had this discussion before. ... It is all that matters, the long-term health of the player. Will we be smart about that? Of course. Will we be thoughtful about that? I hope so. Will we be patient? Yes. We will give him every chance to be as healthy as he can be."
It shouldn't surprise anyone if Embiid doesn't take the court this season at all. The Sixers plan to approach this cautiously, just like they did with Nerlens Noel last year. There are bound to be questions throughout the season about Embiid's rehabilitation process and when he might return. If how it went with Noel was any indication, Philadelphia will keep as quiet as possible. 
The Sixers took a risk with Embiid, one which obviously could pay enormous dividends if he recovers fully. The luxury they have is that they can be more patient than any other team in the league. Everyone is aware that Philadelphia is thinking about the big picture, and an additional month -- or two or three or four -- without Embiid won't make any difference.
(H/T: PBT)
Don't even think about it -- LeBron's reportedly not going anywhere

The point guard's unhappiness reportedly helped lead to his eventual trade request

Even Floyd Mayweather weighs in on the war of words between the two stars
The three-team deal would have also shipped Kevin Love to Denver

Ball wasn't happy about a foul call, swore at a referee and took his team off the floor

Jared Sullinger wants back in the NBA; he knows his weight will play an important part