Sonics fan Eddie Vedder takes shots at Sacramento, Oklahoma City
The band formerly known as "Mookie Blaylock" put Sactown on blast because they kept their team while the Sonics remain dead.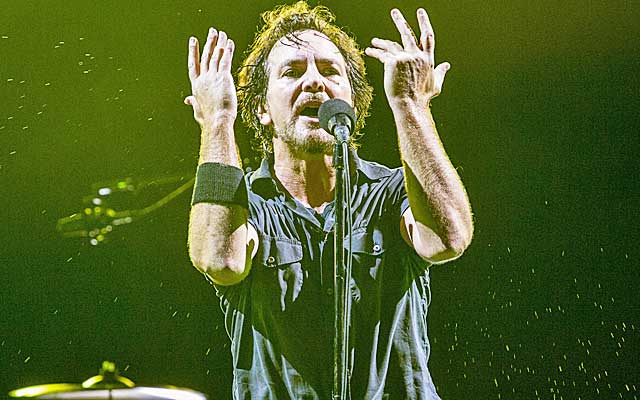 Mega-rock-band Pearl Jam was originally called "Mookie Blaylock" back in the day and they're pretty big NBA fans. A large part of that came from their fandom of the Seattle Supersonics. (The band is from Seattle.)  At recent shows in Charlotte and Oklahoma City, lead singer Eddie Vedder vented about Seattle fan's frusration with losing the Sonics and the failed efforts to return a team when the effort led by Sacramento mayor Kevin Johnson helped keep the team in town. 
Vedder was surprisingly kind to Oklahoma City... not so much towards Sacramento. From the Bee: 
A fan's video shows Vedder saying that "the people that really (expletive) us over is Sacramento," before adding "when you think about it, and if you've ever been to Sacramento, they're already kind of (expletive)."

That tirade stemmed from an earlier outburst by Vedder in Charlotte, N.C., where he made similarly complimentary statements about Oklahoma City. A review of that show in The Charlotte Observer said Vedder's rant about the Sonics' move to OKC in 2008 "left an impression."

Vedder further explained his outburst at Thunder fans in Oklahoma City.

"See, here's the deal," Vedder said. "It's nothing to do with Oklahoma or Oklahoma City or Tulsa or this state or the people or the locals or people in this building. It's simply what it'd be like if your girlfriend, who you were with in a long-time relationship … well, you wouldn't like her new husband. If it was Fresno, I'd be p—-d off at Fresno."
via Angry over Kings staying put, Pearl Jam's Eddie Vedder goes after Sacramento - City Beat - The Sacramento Bee.
So it has nothing to do with Oklahoma City... except that earlier this month in that show in Charlotte, Vedder referred to them as "those f***ers in Oklahoma City." NSFW video: 
Well, then. 
Here's the (also NSFW) video from the concert in Oklahoma City. 
God Bless Eddie Vedder. I don't even agree with Vedder on this, and think the shots at Sacramento/Oklahoma City are totally unnecessary. They are also the work of a master rock star. This is phenomenal. He's touring the country, constantly pushing his angst from one city to another. It's amazing and wonderful. Long live Pearl Jam. Keep doing this with every city that doesn't send its team to Seattle. 
I'm getting tickets to the Pearl Jam show in Milwaukee in two years. 
Related: I think Pearl Jam is awesome, because I'm old. 
HT: PBT
Show Comments
Hide Comments
Series prices show Dubs light years ahead

Green responded that he's 'the modern day Draymond Green'

Our experts predict whether the Jazz can compete with Golden State, along with the rest of...
Breaking down key matchups as the second season reaches the conference semifinal series

Pierce's 19-season run in the NBA ended Sunday as the Clippers bowed out of the playoffs

Utah overcame its relative lack of experience with a balanced, deep and versatile roster