'Speechless' when LeBron returned, Irving now prepares for reality
Kyrie Irving was "speechless" when LeBron James decided to leave Miami and return to Cleveland. Now, as he vies for a Team USA roster spot, Irving looks forward to the reality of playing alongside the King.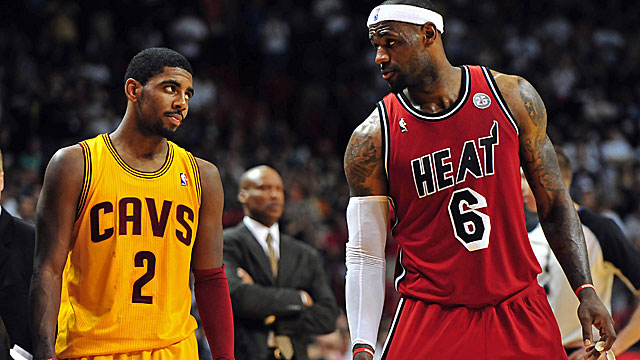 LAS VEGAS -- More than two weeks later, you expected Kyrie Irving to pinch himself as he sat courtside at Team USA training camp discussing something that he still couldn't believe: LeBron James' decision to return home and team up with him in Cleveland.
"At first you were speechless; you couldn't believe it," Irving said. "I've been watching LeBron for a while now and now that I'm going to be running alongside him and being his point guard, it's an honor and hopefully we can do great things."
Irving, vying for a spot on Team USA's 12-man roster for the FIBA World Cup in Spain beginning next month, was the key magnet that lured James back from Miami. James has been enjoying Irving's development from afar for years, and Irving winning MVP at All-Star weekend in New Orleans seemed like another stitch in sewing the fabric of his return.
"Kyrie's special," James said after Irving had raised the All-Star MVP trophy in February. "It's just that simple. Very special basketball player, very smart basketball player -- his ability to shoot the ball, get into the lane, make shots around the rim. He has the total package. I've always known that, always witnessed that ever since he was in high school."
First, though, Irving himself had to make a long-term commitment to the Cavs, which happened on the very first day of free agency when he agreed to a five-year, $90 million extension.
"There wasn't too much of an indecision," Irving said. "More or less it was just the confidence that our management has instilled in me and our coaching staff; the direction that we're going, I wanted to be a part of. That was the reason why I came back, in addition to the optimism that we have going on in Cleveland that things are going the right way. Whether or not LeBron was coming back, I was going to sign. We got it done on that first day when we agreed to terms and I signed on the 10th and that's the way it should go. They wanted me to be a part of the organization long term, and I wanted to be a part of this."
So, too, did James, who reversed his much criticized departure from his native northeast Ohio on July 11, when he announced he was leaving the Heat after four straight NBA Finals trips and two titles. He did so with a two-year deal that will give him maximum leverage on roster decisions and allow him to maximize his earnings with league revenues expected to continue skyrocketing in the coming years.
"When you've put in a certain number of years and you're the greatest player playing right now, you should have that ability to make those decisions," Irving said.
As hard as it was for Irving to believe that James' return was a reality, they've quickly moved past it and had several conversations about the roster and how they want to play.
"We're all grown-ups here, so we talk every once in a while," Irving said. "I talked to him about a week ago. We were just talking about different pieces on the team and things we want to do and things we want to accomplish, and that's exciting."
The excitement may not be over. In addition to deftly accumulating assets and clearing cap room for James' return, Cavs GM David Griffin has given Cleveland the pole position in the offseason pursuit of 2015 free agent Kevin Love. No. 1 pick Andrew Wiggins would be the centerpiece of a deal to bring Love to Cleveland to team up with James and Irving, though the talks are on hold until after the 30-day waiting period following Wiggins signing his rookie contract.
"We all know on and off the court how great of a player Kevin is," Irving said. "He's just a great player to be around. He knows the game. You watch him on film and he does a ton of things well, so obviously he would add a lot of versatility out there on the court at the four or five spot for our team. If it happens, great. But if it doesn't, we're going to go with the pieces that we have."
Including the four-time MVP and undisputed best player in the sport, whose homecoming is still sinking in for Irving.
"When you have the greatest player in the world come to your team and he wants to play with you, that's obviously a great thing," Irving said. "But the only thing that matters right now is what we do out there on the court. Obviously we have some time in between until October starts, but I know we're both excited. I've talked to a few other guys on the team, as well, and I know we're all excited to get started."
Even if, more than two weeks later, it's still hard to believe.
Show Comments
Hide Comments
Washington's forward suffered an ankle injury early in the second quarter of Game 1

Markieff Morris' turned ankle is a huge deal for a shallow Wizards team

Carter turned 40 this season
Washington's forward suffered a nasty ankle injury in the second-round opener vs. Boston

The Spurs are the favorite, but the series will likely be close

The second round of the 2017 NBA Playoffs tips off Sunday at 1 p.m. ET, with Game 1 of Cel...