Spencer Haywood finds out he was elected to Hall of Fame ... then not
Spencer Hawyood thought he was in the Hall of Fame.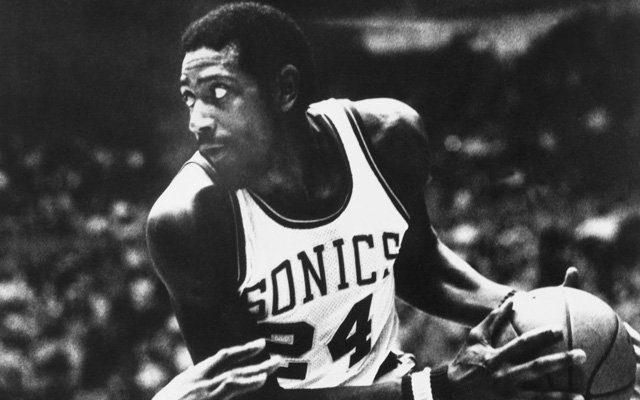 On Friday, Fox Sports Florida reported Spencer Haywood had been elected to the Basketball Hall of Fame. And Haywood was really excited about it. That's a huge honor and validation of his career. 
One problem. Turns out it wasn't true: 
Spencer Haywood will not be announced Monday as having a selection for the Basketball Hall of Fame, despite his former agent having told FOX Sports Florida on Friday he would be. 

Al Ross, who was Haywood's agent in the early 1970s when he sued and won the right through the Supreme Court to enter the NBA as an underclassman, said Friday that Haywood told him he had been called and told he would make the Hall of Fame. 

However, Ross sent this email Saturday afternoon to FOX Sports Florida: 

"I just heard from Spencer that he has not been selected to the HOF after the NBA office contacted him to say that he was chosen,'' Ross wrote about Haywood, who is a finalist for election. "This is a travesty, disgraceful and despicable. Whomever did not vote for him should be ashamed of themselves and be thrown off the committee. If Spencer asks me to follow up on his behalf I will get to every television and news media in the country and I will personally chastise the committee and it's (sic) members.'' 

In a phone conversation following the sending of the email, Ross said he didn't know who might have called Haywood. Ross was informed the NBA does not deal with Hall of Fame candidates, Hall of Fame officials do. When asked if he believed it was a Hall of Fame or NBA official who contacted Haywood, Ross then said it was "one of them.'
Oh, that's awkward. 
Wait, it gets worse: 
"He went to Atlanta because he thought he was getting into the Hall of Fame,'' Ross said after he had sent the email. "This is embarrassing… This is so unfair. He should have been in (the Hall of Fame) years ago.''
Oh, the awkwardness. It burns. It burns so badly. 
Haywood averaged 30 points and 19.5 rebounds in 84 games in the ABA, and 19.2 points and 9.3 rebounds in his NBA career. Haywood has just over a 51 percent chance of making the Hall of Fame according to Basketball-Reference.com.
Of course, this could all be solved by just creating an NBA Hall of Fame, but we'd hate to make sense, wouldn't we? 
HT: SI.com
Show Comments
Hide Comments
Will Iggy stay in Golden State? Does anyone have any idea what to do with Derrick Rose?

Hoiberg was asked about Isaiah Thomas possibly carrying the ball during Game 5

Celtics point guard does not need anyone to hype up his defense
The Bulls had it, they had it ... and ... it's gone

The Bulls found they were without hot water following their Game 5 loss

Wall finished with 20 points and 14 assists in win over the Hawks