Spoelstra: Heat F Chris Bosh continues workouts with 'no expectations' on return
Miami Heat coach Erik Spoelstra provided a health update on All-Star forward Chris Bosh on Tuesday.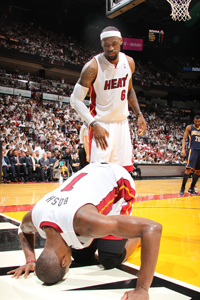 Chris Bosh remains out indefinitely for the Miami Heat. 
(Getty Images)
MIAMI -- The road to a return continues.
Miami Heat coach Erik Spoelstra told reporters at practice on Tuesday that All-Star forward Chris Bosh remains on schedule with his rehabilitation from an abdominal injury suffered two weeks ago. 
"Right now, we don't have expectations at this point," he said. "He's able to do more work. Considering where he was and how we all felt when he was walking off the court, this is incredible progress. We're not getting ahead of ourselves."
On Sunday, Bosh 
went through his first light workout
 since suffering the injury. Spoelstra said Tuesday that Bosh is continuing through that stage of the rehabilitation process.
"He's able to do a similar workout [on Tuesday] to what he did the other night," he said. "It's more rehab-related than basketball-related, he just happened to be doing it on the court."
On Monday, Spoelstra said that the first workout was a "positive sign," but he cautioned that Bosh's workout didn't signal an imminent return.
"I wouldn't over-read into his workout [Sunday]," Spoelstra said. "We'll continue to re-evaluate him every day. He'll continue to do his rehab. When he starts legitimate basketball work, I'll pay attention a little more."
Bosh has been listed as out "indefinitely" since suffering the injury in Game 1 of an Eastern Conference semifinals series against the Indiana Pacers on May 14. The Heat defeated the Boston
Celtics
in Game 1 of the Eastern Conference finals on Monday night and host the Celtics for Game 2 on Wednesday night.
Bosh, 28, averaged 18.0 points and 7.9 rebounds per game for the Heat this season. He appeared in 57 of Miami's 66 regular-season games.
Show Comments
Hide Comments
Can the Celtics clinch a berth in the Finals

Durant was called a 'cupcake' and faced all sorts of other taunts

McCants' career flamed out after his fourth season in the NBA
The Warriors head coach is not ready to rejoin the team on the bench

Lue said that the Celtics were harder to game plan for than the Warriors

James needs only 28 points to pass MJ for the most points in NBA postseason history