Spoelstra: 'No update' on Heat F Chris Bosh (abdominal strain)
Miami Heat forward Chris Bosh is still considered out "indefinitely" as his team approaches the Eastern Conference Finals.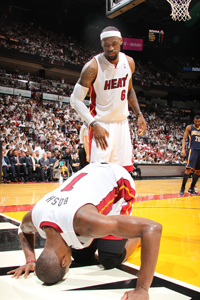 Chris Bosh is still out indefinitely.
(Getty Images)
The Miami
Heat
will host Game 1 of the Eastern Conference Finals on Monday, and they are still expecting to take the court without All-Star forward Chris Bosh.
Bosh, who suffered an abdominal strain in Game 1 of an Eastern Conference semifinals series against the Indiana Pacers on May 14, has been listed out "indefinitely" with the injury.
Heat coach Erik Spoelstra told reporters on Saturday that Bosh's status has not changed.
"No update from before," Spoelstra said,
according to the Sun-Sentinel
. "He's doing a little bit more. It's still indefinite. ... For me, it's my responsibility right now to prepare this team without him."
Earlier this week
, Bosh spoke hopefully about a postseason return.
"I'm just hoping that everyone can keep doing what they're doing and extend the season," Bosh said on Wednesday, according to ESPN.com. "I do have a chance to play again. That's the light at the end of the tunnel for me. That keeps me going every day."
ESPN.com reported Saturday
that Bosh was "still a ways away from" resuming basketball activities although he was able to ride on a stationary bicycle.
The Heat will face either the Boston
Celtics
or the Philadelphia
76ers
in the Eastern Conference Finals. The two teams are playing Game 7 of their Eastern Conference semifinals series on Saturday.
Bosh, 28, averaged 18.0 points and 7.9 rebounds per game for the Heat this season. He appeared in 57 of Miami's 66 regular-season games.
Show Comments
Hide Comments
Veteran guard has spent the past six seasons with the Clippers

The veteran guard had a contract guarantee that would have triggered if he wasn't released...

Griffin has been with the Clippers for his whole career. Is this the end of an era in LA?
The restricted free agent will likely still see significant offers this summer

Texas' Mohamed Bamba and Arizona's DeAndre Ayton also in the top 3 in next year's NBA Draf...

The popular meme will be forever immortalized as a piece of body art