Spurs' Jeff Ayers and Tim Duncan share 'creepy' experience at hotel
Did Jeff Ayers and Tim Duncan come across something from other side at a haunted hotel in the Bay Area. Maybe...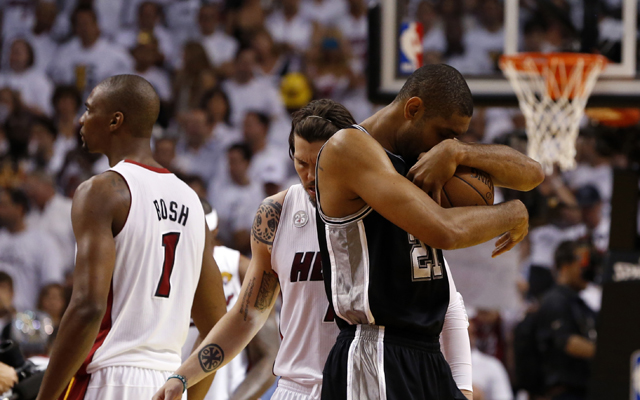 The San Antonio Spurs have been haunted by Ray Allen's Game 6 corner trey for the past nine months. But now a few of them may have been haunted by something else. 
Via the San Antonio Express-News, Jeff Ayers and Tim Duncan shared what they could both only describe as "creepy" experiences at a hotel in Berkeley, Calif. called The Claremont. 
The story is the hotel is haunted by multiple spirits, which includes a 6-year-old girl who died in the hotel.
Take it away, Jeff Ayers:
"You get in at whatever time. I took my room key. I could hear stuff in the hallway, like people in their rooms. So I'm thinking people are watching TV or whatever. So I get to my door, and my key doesn't work, but it sounds like there's somebody in my room. Like I hear a little baby, not crying but making noise. I'm like, 'What the heck?' I keep trying my key and it doesn't work. So I go downstairs to get a new key, and I tell them (somebody's in the room).

"So they call the room, and nobody answers. They're like, 'We can get you a new key and send you up with security and make sure nobody's there, because there shouldn't be anybody in there.' Then they're like, 'We'll just get you a new room.' It was the creepiest thing. I heard a couple of other guys heard babies in the hallway, kids running down the hallway. Creepy. I really heard voices and a baby in the room, and there wasn't anybody in there. It was crazy."
And here's Duncan's account:
"I heard a baby in his room. There was somebody or something in his room, yeah. I definitely heard something. It wasn't creepy, because I assumed it was really somebody in the room, and they gave him the wrong room. But when they told me the story the next day about calling up there and no one in the room, it's at that point you get chills. I totally agreed with him. There was a baby there, absolutely. I heard about the history of the place, and I'd rather not (stay there again)."
This wouldn't be the first time NBA players have run across something unusual in a hotel. The Skirvin in Oklahoma City has gained a reputation for being haunted as Knicks Eddy Curry and Jared Jeffries shared an experience of something strange happening there.
The haunting didn't affect the Spurs much, though, as they went on to beat the Warriors 99-90, and have now won 14 straight. 
Show Comments
Hide Comments
Thunder fans used the term 'cupcake' in reference to Durant after he left OKC in free agen...

There appeared to be some wishful thinking on the part of Charlotte general manager Rich C...

Thompson is one of the best shooters in the league, but it appears dunking isn't his speci...
Cuban was willing to part ways with employees who leaked ahead of the official announcemen...

Draymond wasn't mad about the move, though. He was mad about the way he heard about it

All-Star forward was sent from the Bulls to the Timberwolves on draft night