Spurs-Lakers Game 4: Lakers without four players, including Nash, MWP
Steve Nash, Jodie Meeks, Steve Blake and Metta World Peace are out vs. the Spurs on Sunday.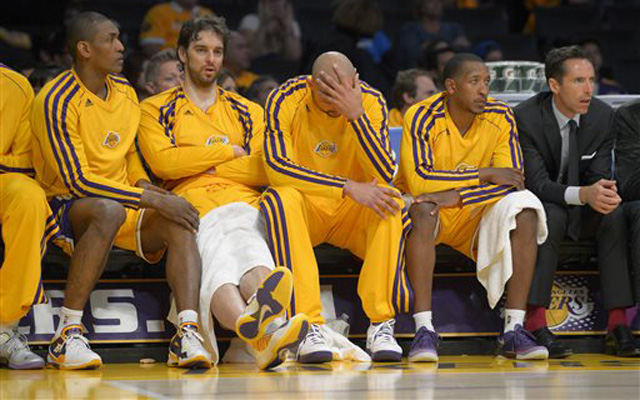 And now, for something entirely different, the Lakers have injury issues. 
Metta World Peace (knee), Steve Nash (back, etc), Jodie Meeks (ankle) and Steve Blake (hamstring) are all out for Game 4.

— Mike Trudell (@LakersReporter) April 27, 2013
Oh, and Kobe Bryant as well. And Pau Gasol tore something in his foot two months ago. And Dwight Howard has a torn labrum and is coming off back surgery recovery. 
Earl Clark is fine, though. 
For now. 
Tiago Splitter is out for the game, so that ... does nothing. It does nothing. The Spurs are incredibly, amazingly better than this team without all its components, and there is no hope. Is there a chance? Sure. There's always a chance. 
But, seriously, this thing is done. And it needs to be. The Lakers need to set the remnants of this season on fire, put them in a box and bury them deep, deep within the earth forever. 
The Raptors' big man rolled into camp in a beat-up, 25-year-old Audi that he could barely fit...

Lillard said 'good luck' to the champion Warriors if the Blazers acquire Carmelo Anthony

Now NBA stars are invading your neighborhoods and looking for your hoops
Raptors want improved ball movement and spacing, and the big scorer ran the show some last...

The 15-year veteran says his decision to return was influenced by his coach's plea

Shaquille O'Neal certainly knows how to bring attention to himself