Spurs-Lakers Game 4 Preview: All over but the shouting
Previewing Game 4 of the Spurs-Lakers first-round series.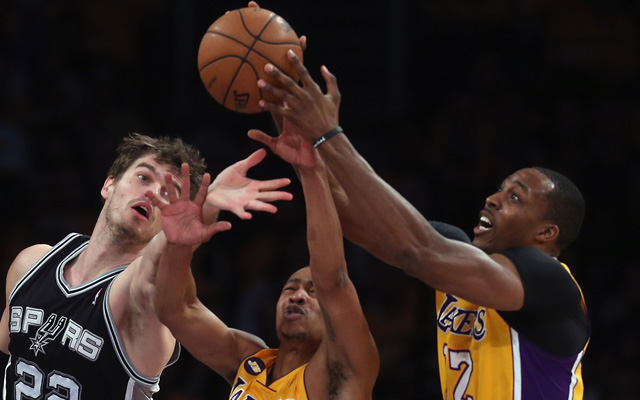 Previewing Game 4 of the Spurs-Lakers first-round series.
1. Where We Are: Sometimes, the best thing is to just to end something before it can get uglier. That's where we are with Spurs-Lakers.
The Spurs are up 3-0 and have dominated all three contests. The Lakers are injured, out of sync, starting the D-League MVP and Darius Morris. They're veterans and know how things go when you're down 3-0. To make a valiant last stand requires a certain degree of naivete that they don't have.
It's all almost, finally, over.
2. The Big Number: 92.4. The Lakers have the worst offensive effiency in the playoffs at 92.4. The Milwaukee Bucks are having more luck offensively than they are. They're up against one of the most efficient teams in the league with smart ball movement, talented stars and a great scheme. They can't win this series, no, a game, without improving their offense.
3. Key Adjustment: There's no adjustment the Lakers can make. The shots fall or they don't.
But the Spurs have been putting Matt Bonner on Dwight Howard to mixed results. The Red Mamba has blocked a few shots, but he's also widely overmatched. The Spurs have to figure out ways to hide Bonner defensively. Out in the open is a bold move, but long term might not be optimal.
4. The Big Story: A team considered to be one of the greatest collections of talent the league has ever seen is about to be swept in the first round as a 7-seed. That's a pretty big story.
5. The Facts: 7:00 p.m. ET. Steve Nash, Steve Blake, Metta World Peace, and Jodie Meeks are all out for the Lakers. Tiago Splitter is out for the Spurs with a sprained ankle. Boris Diaw practiced with the Spurs on Saturday but is out for Game 4.
Show Comments
Hide Comments
Our Latest Stories
Shaquille O'Neal wishes his resume was a little bit stronger

The Philadelphia big man said it went 'better than expected'

Maybe just let everybody enjoy this
This is the Mamba mentality, I guess

Hornets swingman Jeremy Lamb hit the star in the eye on Friday

New York's injured center tested positive for using a banned over-the-counter supplement