Spurs' Manu Ginobili '98 percent' sure international career over
San Antonio Spurs guard Manu Ginobili had planned to end his illustrious career with the Argentinian national team at the FIBA World Cup.
• 1 min read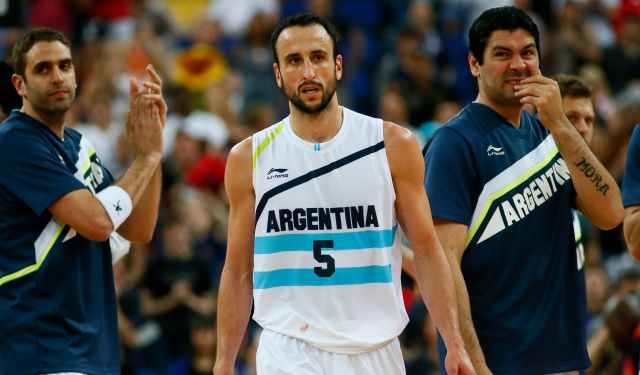 Offseason: Free Agency | Latest from Ken Berger | Rumors
San Antonio Spurs guard Manu Ginobili has accomplished just about all there is in international basketball, but that doesn't mean it's easy for him to step away from the Argentinian national team. He had planned to suit up for his country one last time at the 2014 FIBA World Cup in Spain, but he has to miss it because of a nagging fibula injury. Ginobili, who wrote in a column that he was "sad and disappointed" about this development, confirmed in an interview with La Nacion that he's "98 percent" sure that this is it, via Reuters.
"Today, I can say for almost certain, 98 percent, that I won't play any more (for Argentina)," the 37-year-old said in an interview with the Buenos Aires daily La Nacion published on Saturday.

…

"If I'd played this tournament it would have been the last, that's sure… It's hard and it always will be to retire from this (Argentina) team," said Ginobili, a member of his country's so-called golden generation.

Ginobili, who had originally thought he would retire from international competition at the London Olympic Games two years ago, helped Argentina win the silver medal at the 2002 World Cup in Indianapolis, gold at the 2004 Olympics in Athens and bronze four years later in Beijing.
Ginobili has already gone above and beyond the call of duty for Argentina, competing summer after summer. To have done that while playing deep into the playoffs every year in San Antonio is quite something. The fact he was even considering playing this year should speak for itself.
(HT: PBT)
The point guard's unhappiness reportedly helped lead to his eventual trade request

Even Floyd Mayweather weighs in on the war of words between the two stars

The three-team deal would have also shipped Kevin Love to Denver
Ball wasn't happy about a foul call, swore at a referee and took his team off the floor

Jared Sullinger wants back in the NBA; he knows his weight will play an important part

Cleveland is one of Rose's biggest suitors, and the Irving situation could lead to an even...