Spurs owner Peter Holt takes a shot at Phil Jackson for 'bailing' on Bulls
San Antonio head honcho has a crack at the Zenmaster.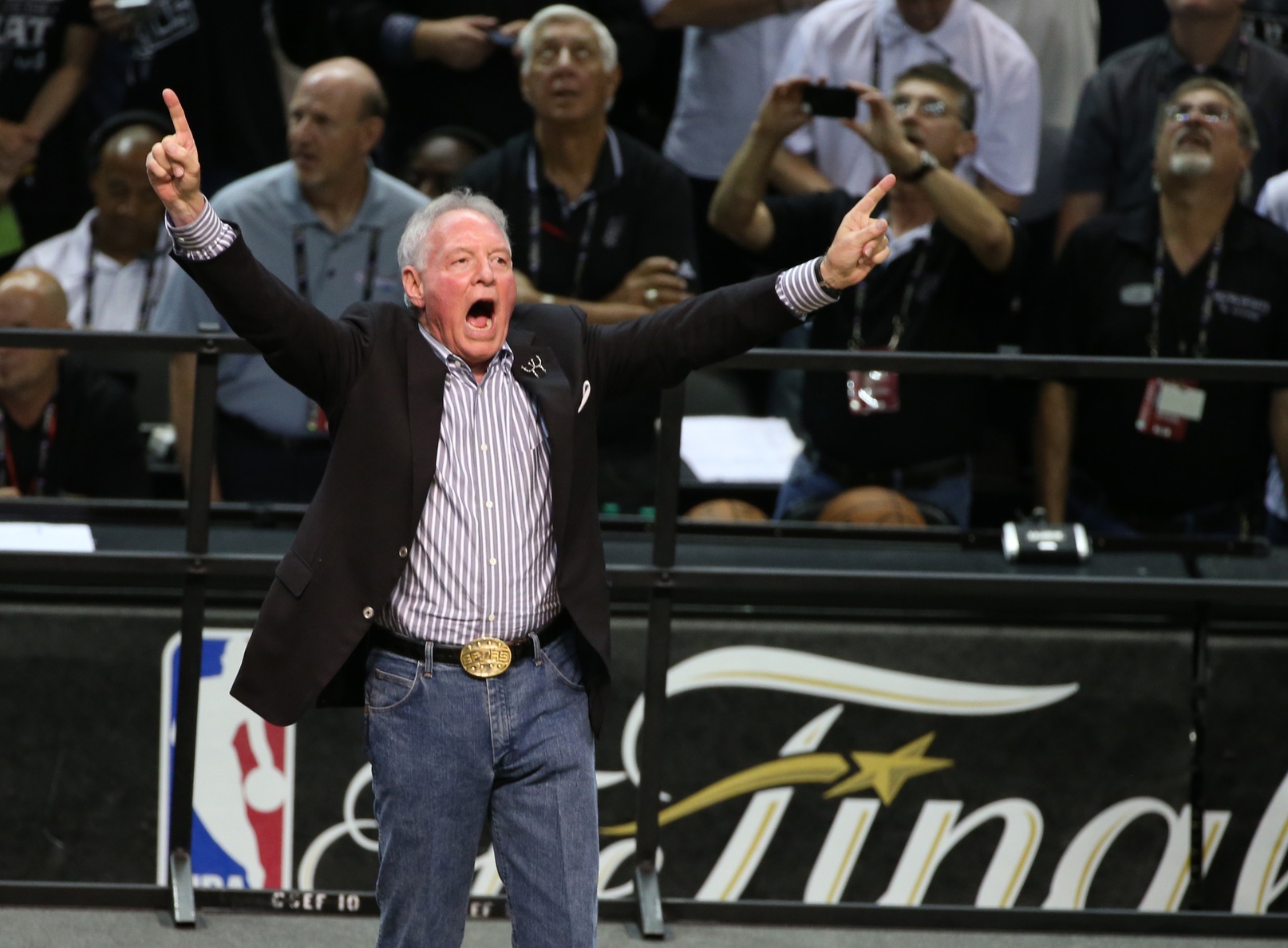 More postseason coverage: Playoff schedule, results | Latest news, notes
After the Spurs won the title last Sunday night, NBA.com reports that Spurs owner Peter Holt had a jab for former Bulls and Lakers coach (and current Knicks President of Basketball Operations) Phil Jackson, after Jackson's repeated knocks on the Spurs' 1999 title during the lockout-shortened season. 
Holt, basking in the immediate glow of his team's fifth championship Sunday night, was asked if this title is the sweetest of them all. Holt said, yes it is, although the first in 1999 will always be special, and that's when you could start to see Holt's face light up and the smile begin to build…

"Even though it was a shortened, asterisked season," Holt said, now sporting a full-on grin. "Phil, Phil, Phil, Phil, we all played the same amount of playoff games, didn't we, Phil?"

Holt was quickly reminded that Jackson was retired that season, his first out of the league following a second three-peat with Michael Jordan and the Bulls.

"Yeah, uh-huh." Holt said. "Well, he bailed out."
via A jab at Phil and Spurs uniqueness « NBA.com | Hang Time Blog with Sekou Smith.
Ouch. 
But also, true. 
The Bulls broke up the team after 1998, as Jordan once again walked into the sunset, only to return for a downright sad last turn with the Wizards, and Pippen went to chase money and rings out West. It was the end of an era, and everyone kind of agreed it needed to be so. 
But the Spurs never did that. 
They stuck together, and after winning the title in 2007 the team went back to the Western Conference Finals in 2008. After disappointing runs from 2009 through 2011, they kept coming back, kept pounding that rock like they always say, and the result was the team's fifth championship this season. 
And still, they feel they have more to accomplish. 
Jackson went on to win more rings, but he's also "bailed" twice when things got difficult. You can argue he bailed in 2011 but that seemed a lot more like Jim Buss' idea. You can dislike Holt taking the crack at Jackson, but the man's got a point. 
McCollum has been leading the charge, attempting to talk the Knicks star into playing for...

Ginobili recently agreed to a deal to return to the San Antonio Spurs for a 16th season

Chicago fans are investing their money in the attempt to get Gar Forman and John Paxson fi...
Rajon Rondo will be re-uniting with DeMarcus Cousins for at least one season

It had been reported that his injury and recovery could hold the All-Star out until Decemb...

Adam Silver has been one of the most progressive commissioners, regardless of sport