Spurs-Warriors Game 6: Spurs' superiority wins out in the end
The Spurs advanced with the same approach they've been using for fourteen seasons, by playing a superior brand of basketball, fun or not.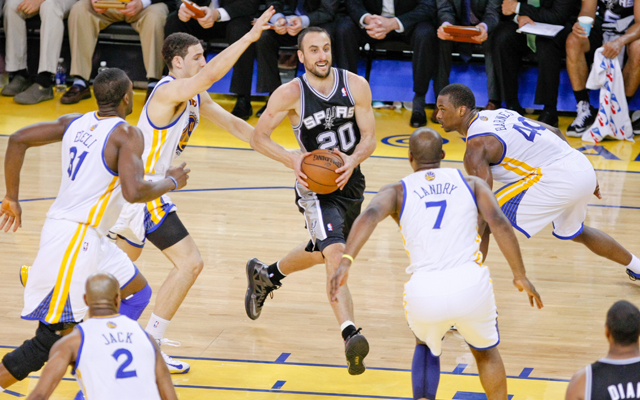 The Warriors were fun incarnate. Throwing up threes off the dribble with nary a care. The yellow-clad crowd roaring with excitement over the rare playoff appearance. The young star being introduced to the basketball universe in Stephen Curry. They were swasbucklers, and their brand of basketball was romance for hoops junkies that crave the unforgettable shots. 
The Spurs didn't care. At all. 
San Antonio shut down the party in Oakland Thursday with what they always do, even if it didn't look like it. You wouldn't describe a game in which Tony Parker was 3 of 16, Manu Ginobili 1 of 6 and Tim Duncan sat to close the game as your typical Spurs game. But San Antonio closed out the Warriors with the same elements that have made them so successful. 
Duncan is one of the few superstars who would not only accept a benching in that situation, but have no problem with it. Popovich is the only coach who would make that maneuver after Duncan had been the most succesful star the team had. And the Spurs are the only team that can have disastrous performances from their stars and still walk away with the win. 
The Warriors kept trying for the same fun they've pulled all postseason. The fun comeback behind heroball and heart. They made runs, they closed the gap, they applied pressure. And each time the Spurs calmly and precisely executed their offense, moved the ball, and created an open three. Splash. No big dramatics. No supersrtar actions and jawing. Just rotations and the sound of the net catching. 
The Spurs are four wins from the Finals because they made the right decisions and made the cumulative adjustments throughout the series. The Warriors had the edge in play and coaching in the first two games, but Game 3 on was all Spurs. 
The Warriors' season is considered a success because they proved that they could be dangerous, and all indications are that they have a bright future and will evolve into a contender. The Spurs' season continues because they have the talent, the system, the gameplan, and the ability to play the superior game. They don't rely on things which can't sustain themselves, they don't need motivational ploys, and their success isn't hinging on an otherworldly performance. 
They just play a better brand of basketball. It might not be fun, but it is superior. What can be more Spurs than that? 
Show Comments
Hide Comments
Our Latest Stories
Who faces who, who's in, who's out, and what happens next?

Spurs assistant is well-positioned to be the first female NBA head coach

Big Baby has spoken, and he wants Allen at the get-together this summer
Reportedly, the star forward could be looking for a fresh start

Phoenix is taking the idea of a youth movement to its logical extreme

A phone call was made while Williams was still a member of the Lakers