Spurs-Warriors: Golden State playing for survival in Game 6
With the Golden State Warriors playing for their playoff survival Thursday night against the San Antonio Spurs, they need to maximize their best lineup.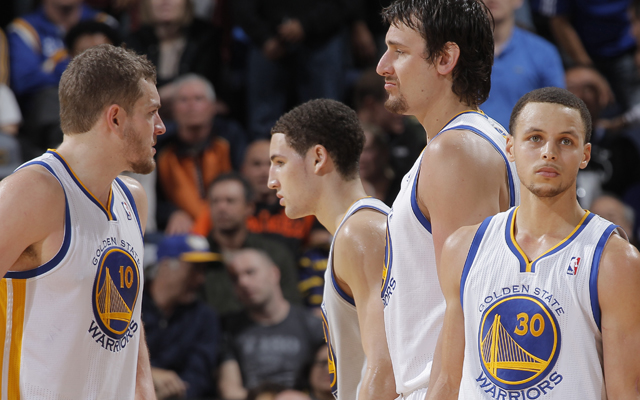 Win or stay home.
Those are the two options for the Golden State Warriors on Thursday night as they try to defeat the San Antonio Spurs in Game 6 at Oracle Arena. With the Spurs leading the series 3-2, the Warriors have to find a way to maximize their talents on the floor, utilize their system to exploit any potential weaknesses in the Spurs' game and play their best lineups as many minutes as possible throughout Game 6. Since their backs are against the wall, they really don't have any other choice.
The best way to maximize their talents right now is by playing their best lineup from this round against the Spurs. That lineup involves Stephen Curry running the point, Klay Thompson and Harrison Barnes flanking on the wings and Draymond Green teaming with Andrew Bogut to control the interior. 
It's hard to extract a ton of definitive information from five games of a series. You have very basic concepts of what is working and what isn't because one big stretch can completely skew the numbers. But from what the Warriors like to do and what has been successful for them against the Spurs, this lineup seems to make the most sense. Plus/minus and net differential are statistics that work much better when stretched out over a one or two-year period of time, but we don't have that kind of time frame when dealing with a playoff series.
Through the first five games of this matchup, the Curry-Klay-Barnes-Green-Bogut lineup has excelled in their 31 minutes on the court together. It's the second-most used lineup in terms of minutes by the Warriors this series, just behind the Curry-Klay-Barnes-Landry-Bogut lineup that has played 33 minutes. But the lineup that substitutes Draymond Green for forward Carl Landry works better because it allows them to play defense while still offering a great percentage of made shots.
The defense has been outstanding when this lineup is on the floor. They allow just 36.8 percent of all field goals and only 25.0 percent on 3-point shots. A Warriors team that gives up 104.9 points per 100 possessions in this series improves to just 87.3 points when the Curry-Klay-Barnes-Green-Bogut lineup is in the game. Between Bogut's rim protection and the physical defense from their two rookie forwards (Barnes and Green), the Warriors have done an incredible job of turning away shots inside. They've given up just 33.3 percent in the restricted area with this lineup.
As good as this lineup has been on defense, it's really shined more on offense. 
Throughout the series, they've peppered that right wing with 3-point accuracy and that doesn't change with this lineup. What does seem to change, though, is their ability to be successful inside the restricted area. Their field-goal percentage in the restricted area increases 10.1 percent with this lineup because they spread the floor well and manage to use their quickness and athleticism to get into the paint.
This unit scores 122.1 points per 100 possessions against the Spurs, which is nearly 20 points better than the 102.2 the team has put up. The Spurs have two fully capable wing defenders in Kawhi Leonard and Danny Green, but those guys can't cover everybody. Andrew Bogut and Draymond Green do such a fantastic job of being physical and setting screens that it allows the wing players of the Warriors to get free from those defenders and get off good shots. This lineup has an effective field-goal percentage of 60.0 percent. 
Playing this lineup more in Game 6 would mean role players like Jarrett Jack and All-Star David Lee see less of the court. Lee's exclusion isn't a big deal because his torn hip flexor has rendered him slightly useful in small doses. But seeing less of Jack could be something that's hard for coach Mark Jackson to let go of.
Jack has been an integral part of this Warriors team all season, whether that's good or bad. He's been fearless in his shot selection and feistiness. He's been willing to take big shots and is often the go-to ball handler at the end of games even though Stephen Curry is their best player. Part of that reason is because Curry isn't a good isolation player. He's just not. He's much better negotiating a screen and finding space off of that to hurt the defense, whereas Jack is good at creating space with his own body off the bounce.
To abandon more minutes for Jack doesn't mean you have to cut him out of the rotation completely; it just means it's worth exploring extended stretches for this lineup that has been so successful against a frustrating opponent. With this lineup on the floor, they are forced to run more action with screens and can't just rely on someone isolating up top to create a basket. This leads to more movement and more passes inside once the defense commits. 
There is no guarantee that the Warriors will win this game if they go to the Curry-Klay-Barnes-Green-Bogut lineup more than they have. It just keeps their team principles of using screens and playing outside-in intact. They need to find a way to maximize the shooting the Spurs' defense has been able to subside through the first five games. Otherwise, they won't get a chance to win this series in San Antonio on Sunday.
Show Comments
Hide Comments
This was a horrible play by the Bulls' guard.

The UCLA product and southern California native has previously indicated his desire to play...

Wall threw down a similarly impressive dunk earlier in the series
LeBron played just under 44 minutes per game in the first round against the Pacers

Markelle Fultz is No. 1, followed by Kansas' Josh Jackson and there are some new names in the...

Leslie Alexander made his way onto the floor to complain about a call