Spurs-Warriors: Tied 1-1 going on the road, we've been here before
After dropping Game 2 to the Golden State Warriors, the San Antonio Spurs find themselves in a precarious and all too familiar situation.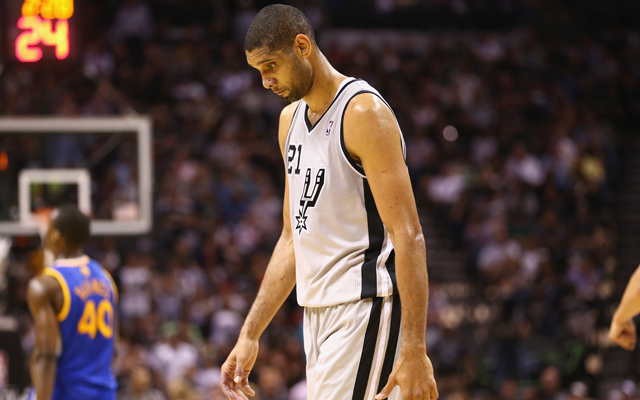 The San Antonio Spurs have a system. That system believes in making the right play at the right time. You don't force shots. You don't force passes. You make the correct pass and the correct defensive rotation depending on the situation developing in front of you. They turn your mistakes into their execution and everybody is a vital part of what's going on.
In theory, that system should be able to deal with any performance thrown their way. If they play basketball the right way, and their system is the right way to play basketball, then everything should turn out well for them. However, there are nights in which shots don't fall. There are nights when the Spurs go 5 of 21 from 3-point range and run into a buzz saw like Klay Thompson. And there are series that fall apart because of injury or certain players not stepping up in the biggest moments.
After losing Game 2 at home, the San Antonio Spurs are tied with the Golden State Warriors 1-1 in the series and headed to Oracle Arena for the next two games. We've seen them in this situation before. In fact, it happened to them twice in the previous four postseasons before now.
Back in the 2009 playoffs, they dropped one of their first two home games to the Dallas Mavericks. When they went back to Dallas, they got handled pretty easily in Game 3 and dropped Game 4 because Spurs players not named Tim Duncan and Tony Parker combined for 22 points on 28 shots. In the blink of an eye, they dropped the final three games of the series to lose to the Mavs in five games.
In 2011, the Spurs were the 1-seed going against a rough and tumble Memphis Grizzlies team that was supposed to just be dipping its toes in the playoff waters to check the temperature. After the Grizzlies beat a Spurs team missing Manu Ginobili in Game 1, they were ready to dive right into the water and hang out for a while. The Spurs had to fight back in Game 2 to steal a win on their own home court. 
Then they headed to a hostile road environment in Memphis where the crowd wasn't about to let the Spurs forget they didn't have the luxury of sleeping in their own beds and playing in front of their own fans. Over the next two games, the Grizzlies managed to eek out a win in Game 3 and dominate the Spurs in Game 4 to grab a commanding 3-1 lead in the series. From there on out, the Spurs tried to battle with the Grizzlies while getting just one game out of Ginobili, but their efforts weren't enough to prevent the upset in six games.
Now this current Spurs incarnation has to head to the raucous Oracle Arena and play against possibly the loudest fans in basketball. Broadcasts will show a see of yellow shirts, MC Hammer wearing sunglasses in courtside seats, and measure the decibels that the Spurs' coaching staff and players have to deal with while they try to keep their concentration in order to keep the system true and working. The crowd will be anticipating Stephen Curry and Klay Thompson jumpers to rip through the net, so that they can erupt and attempt to make our TVs at home shake a little.
How will the Spurs respond? Will we see the resolve we're supposed to see from such a systematic group of individuals that come together under the teachings of Gregg Popovich that preach consistency and execution? Or will we see a familiar collapse at the hand of an eager, youthful opponent that has stolen homecourt advantage away from San Antonio and are ready to show the veterans why its so important to have?
It's not that the Spurs are destined to be upset in the playoffs from now on; it's just that recently when we've seen them in this same predicament, it ends up ending their postseason run much earlier than the system is suppose to allow. If anything, their execution and poise is needed now more than ever. They have to look the hostile environment in the eye and refuse to blink. That may not be doable with the hot shooting of the Warriors or Ginobili and Parker trying to draw fouls more than trying to concentrate on getting their team good shots.
If they can't find a way to win one of the next two games and even up the series heading back to San Antonio for Game 5, it might be time to start trying to figure out if the system was more suited for the regular season than it is for postseason adversity. 
Show Comments
Hide Comments
Our Latest Stories
The Rockets guard continues his impressive season with his 20th triple-double and an NBA r...

We'll soon know the latest on the superstar's status

Hawks coach Mike Budenholzer said he's 'upbeat' about his injured All-Star's progress toward...
The Rockets guard figures to be one of the favorites to take home the MVP Award

Projections, expectations, schedule analysis and more for the race to 16 squads.

Where they go from here will be interesting