Steph Curry breaks 3-point record, enters Wilt Chamberlain territory
With 11 3-pointers in Game 58 of the season, Stephen Curry broke his record faster than any other single season record across sports.
Golden State Warriors superstar Stephen Curry set another ridiculous record Saturday night against the Oklahoma City Thunder when he made 12 3-pointers to give him 288 on the season. That broke his own NBA record of 286 made 3-pointers in a season, which he set in his MVP 2014-15 campaign. It also tied the single-game record set by Donyell Marshall and Kobe Bryant. Curry has been on an absurd shooting tear, making more than five 3-pointers per game this season while rewriting his own history books.
It's the fastest we've seen a single-season record broken, not just in professional basketball, but across all of the major sports. When Barry Bonds set the single-season home run record in 2001, he did it with just a couple games left in the season. The same with Wayne Gretzky in 1985-86 when he broke his own record for points in a season. Ladainian Tomlinson set the record for total touchdowns in a season in Game 13 of the 2006 NFL season, which left 18.8 percent of games in the season.
Perhaps the closest thing we've seen is Mark Eaton setting the blocks record in 1984-85 when he shattered Elmore Smith's previous record with 14.7 percent of the season remaining. And Wilt Chamberlain broke his scoring record in 1961-62 in Game 60 of 80, leaving 23.8 percent of the season left.
For Curry, he broke his own record with a ridiculous 29.3 percent of the season left.
He's on pace for more than 400 3-pointers made this season, which would obliterare his own record and even challenge entire NBA teams for total 3-pointers made this season. He's truly the Wilt Chamberlain of 3-point shooting.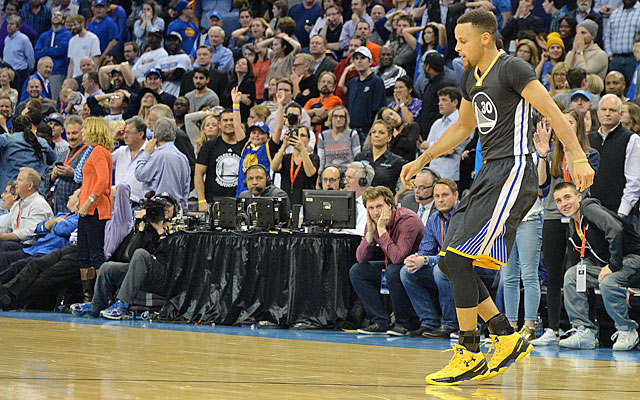 Show Comments
Hide Comments
Our Latest Stories
LeBron wants J.R. Smith and the Cavs to come to an agreement as soon as possible

Perkins goes in-depth about the relationship between Kevin Durant and Russell Westbrook

If you've got presents, by all means
Sounds like Manu could be around a little longer

Blake Griffin has been working on his 3-point shot this offseason

Jason Kidd has John Stockton giving advice to his point guards during training camp