Stephen Curry 'good to go' for Game 5
Stephen Curry has suffered no setbacks with his sprained left ankle and will play vs. the Spurs in Game 5 on Tuesday night.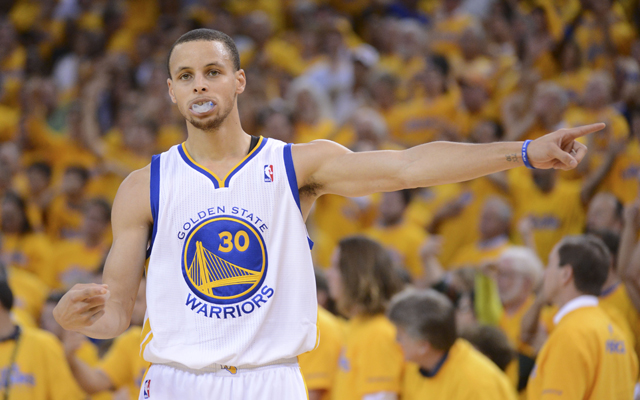 Warriors G Stephen Curry suffered no setbacks with his sprained left ankle overnight and is "good to go" for Game 5 vs. the Spurs in San Antonio on Tuesday night. 
From the San Jose Mercury News: 
Q: So how does the ankle feel today?

-CURRY: I feel good. Ready to go tonight. It feels a whole lot better than it did before Game 4, so that's all I could ask for.

-Q: You said you just wanted it to feel like it did after Game 4. So it's better than that?

-CURRY: I woke up yesterday, it wasn't worse than it was before the game, which is a huge success. And then was able to capitalize on that with treatment the last day or so.

So mission accomplished, to be able to play Game 5 and not have any setbacks or kind of delay the healing process for tonight.

-Q: Did your ankle swell during the flight?
Curry turned his ankle in Game 3 and struggled on it for the rest of that game and in Game 4, despite shooting well from the floor. Curry has had two surgeries on the ankle in the past two years. 
The Warriors managed to out-muscle and out-hustle the Spurs in Game 4 behind a strong defensive effort and some key shots from Jarrett Jack and Harrison Barnes, who took 26 shots in Game 4 with Curry limited. Curry has had to take three painkiller shots on top of the anti-inflammatory shots that he has been regularly taking. He said at shootaround on Tuesday that he did not plan on taking another painkiller before Game 5. 
Curry is averaging 25 points on 45-percent shooting, 42 percent from three in the playoffs, and 26 points and 7 assists vs. the Spurs on 42-percent shooting from the field. The series is tied 2-2 headed into Game 5.
Show Comments
Hide Comments
Game 1 of the 2017 NBA Finals tips on June 1

LeBron reflects on emulating Michael Jordan growing up, but one thing he couldn't quite co...

Check back here for all of the conference finals results from the NBA playoffs
The Cavs clinched the series by winning Game 5 by 33 points in Boston

'I wear the number because of Mike'

Our experts predict every series in the 2017 NBA playoffs