Stephen Curry on minutes restriction with quad strain
Warriors guard Stephen Curry (quad strain) will have his minutes limited for the time being.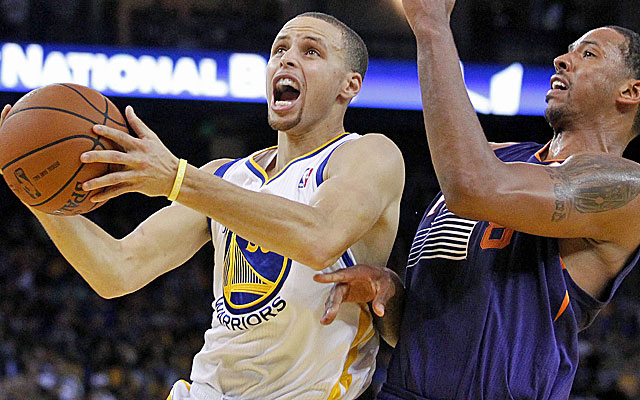 More NBA: Power Rankings | Expert Picks | Latest news, notes
Warriors guard Stephen Curry is on a minutes restriction for an indefinite number of games due to a quad strain, coach Mark Jackson announced Sunday: 
Warriors guard Stephen Curry is expected to start, but play limited minutes against Phoenix on Sunday night because of a strain in his right quad that coach Mark Jackson said was "minor."

Jackson said it's believed the strain was suffered in Thursday's win at Boston when Curry left the game in the third quarter due to what the team at the time called right leg soreness. Curry played 30 minutes in Friday's win against Atlanta.

"His minutes will be limited as far as he won't play 48 minutes, but we will keep an eye on him," Jackson said about an hour and a half before Sunday's game. "He'll play, get treatment and get rest. We'll play it by ear game to game.

"He can play. There's nothing that says, 'OK, not playing is going to speed up the process of getting better."
via Warriors' Curry to be limited against Suns because of quad strain - Inside Bay Area.
Curry wound up playing 30 minutes in a Warriors victory over the Suns on Sunday, posting 18 points and nine assists, but moving forward, if Curry is indeed mildly injured, it puts Jackson in a tough position. He's not far enough into the playoff positioning to be able to sit Curry down, but he needs to make sure his point guard is healthy for a playoff run. It paints Jackson into this corner where a less-than-healthy superstar has to play under minute limits to keep himself as healthy as possible without just focusing on getting healthy. 
Show Comments
Hide Comments
The two best point guards in the East go at it in a series sure to be filled with drama.

Breaking down key matchups as the second season reaches the conference semifinal series

The second round of the 2017 NBA Playoffs tips off Sunday at 1 p.m. ET, with Game 1 of Cel...
The Spurs have homecourt advantage, and will host Game 1 Monday night at 9:30 p.m. ET

All-Star guard flew to Washington after Game 6 vs. Bulls to attend his sister's funeral Sa...

Some love for the Rockets over the Spurs, and at least one expert says the Cavs are going...