Stern: 'No doubt' the NBA will avoid work stoppage in 2017
Despite ominous statements from prominent players about how the NBA's new TV deal will affect collective bargaining, former commissioner David Stern believes the league will avoid a work stoppage in 2017.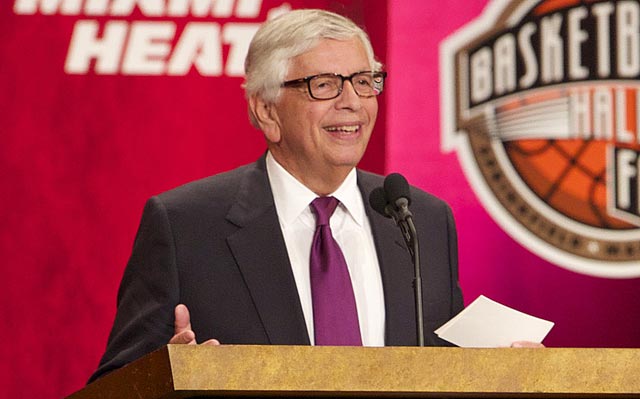 CHARLOTTE, N.C. -- Despite ominous statements from prominent players like LeBron James and Kobe Bryant about how the NBA's new TV deal will affect collective bargaining, former commissioner David Stern said Wednesday night he believes the league will avoid a work stoppage in 2017.
"I think that our players are very smart and successful and they have hired what seems to be a smart and successful litigator," Stern told CBSSports.com. "Our owners are smart and successful and have got Adam Silver, an accomplished litigator, too. And I have no doubt that they're going to work it out."
Asked if they'll be able to do that without a work stoppage, Stern said, "I hope so. There's too much at stake now."
The players' smart and successful litigator, union executive director Michele Roberts, recently disputed the notion that the NBA was losing money during the last work stoppage -- tough talk that prompted a terse reply from the league office. Both sides can opt out of the current CBA on July 1, 2017.
Stern, who retired in February, is in Charlotte for the occasion of the city's expansion franchise being rebranded as the Hornets, the original name of the team that played here from 1988-2002 -- before it relocated to New Orleans and took the name with it.
"It's good to be back in Charlotte to welcome the Hornets," Stern said. "I guess I get to do it once every 26 years."
Addressing reporters before the Hornets-Bucks game, Stern, 72, said his successor, Silver, handled Donald Sterling's removal as owner of the Los Angeles Clippers "perfectly."
"I have a little bit of a different view of Adam," Stern said. "I don't consider him a neophyte. We had been working together for 22 years and the line between what I was doing and what he was doing was not clearly demarcated."
Though it isn't his direct concern anymore, the players' reaction to the league's $24 billion TV deal commencing in 2016 has been strident. James said that owners claiming they are losing money "will not fly with us this time." Bryant sent out a cynical tweet after the deal was announced, and later said, "We don't look at what the owners get paid and how much revenue they generate on the backs of these players."
Stern, who oversaw work stoppages that resulted in missed games in 1999 and 2011, said he's unconcerned about that perspective among players.
"The league's not going to be losing money," he told CBSSports.com. "That's great. And the players get 50 percent of it. ... As a league we were losing money [during the 2011 lockout] and my guess is, as a league, when the new TV deal kicks in, they're going to be making money. That's a guess; I don't have the numbers. Some teams lose money voluntarily."
During his 30-year tenure, Stern also oversaw a rash of franchise relocations. The one that still haunts the NBA is losing the Seattle market, but the Charlotte franchise moving to New Orleans and then having to be taken over by the league was perhaps the darkest moment. The next expansion team went to Charlotte, the New Orleans franchise got a new owner and a new name, and somehow the misdeeds of the NBA's Charlotte fiasco have been scrubbed clean with this rebirth of the team. Seattle is still waiting.
Asked if the era of franchise relocation is over for the NBA, Stern said, "I could never say that. I just don't know. I would hope it is. I think that franchise relocation is something that we've always worked hard to not have. We worked extraordinarily hard in Sacramento when everyone said that it was all but a done deal. But we also worked hard in Charlotte and we worked hard in other cities. I think that given the evolution of our [arena] situations, I think that will contribute to a likelihood that there won't be any franchise relocations."
Or another lockout, if Stern's instincts are correct.
Show Comments
Hide Comments
Thunder fans used the term 'cupcake' in reference to Durant after he left OKC in free agen...

There appeared to be some wishful thinking on the part of Charlotte general manager Rich C...

Thompson is one of the best shooters in the league, but it appears dunking isn't his speci...
Cuban was willing to part ways with employees who leaked ahead of the official announcemen...

Draymond wasn't mad about the move, though. He was mad about the way he heard about it

All-Star forward was sent from the Bulls to the Timberwolves on draft night