Steve Kerr returns to Golden State Warriors bench Friday
Steve Kerr resumes full activities following offseason back surgery and complications from a spinal tap as reigning champs are finally at full strength.
The Golden State Warriors announced Friday that coach Steve Kerr would make his long-awaited return to the sideline Friday night vs. the Indiana Pacers. 
Golden State Warriors Head Coach Steve Kerr is returning from his leave of absence and will be on the bench to coach the Warriors tonight in their game against the Indiana Pacers at Oracle Arena, the team announced today.

Kerr originally took a leave of absence on October 1, 2015, to focus on rehabilitation and recovery from a pair of offseason back surgeries. After leading the Warriors to a franchise-record 67 regular-season victories in 2015-16 and the team's first NBA Championship in 40 years, Kerr underwent surgery on his back to repair a ruptured disc in late July and a follow-up surgery in early September.

Luke Walton, the team's lead assistant coach, served as interim head coach in Kerr's absence and helped guide the Warriors to a 39-4 record, which equals the second-best record through 43 games in NBA history (trailing only the 1995-96 Chicago Bulls at 40-3). Walton was named NBA Coach of the Month in November as the Warriors began the season with 24-consecutive victories, the most wins ever to start a season in professional team sports.
Doors open at #Warriors facility and Steve Kerr is on the court as 'Welcome Back' song plays in background. He's back.

— Monte Poole (@MontePooleCSN) January 22, 2016
Kerr jokes that he planned to send an "I'm back" fax like MJ

— Ethan Strauss (@SherwoodStrauss) January 22, 2016
Kerr has gotten credit for all of Luke Walton's victories, so it's about time he started pulling his weight. But seriously, it's a nice emotional boost for Golden State who gets Kerr back on the sideline for the first time since winning the NBA title last June, and it comes just three days before the Warriors are set to host the Spurs in what is considered the biggest NBA regular season matchup of the year. 
Kerr has maintained an active role with the Warriors during his absence, accompanying the team on road trips in the last month and providing constant input to Walton and the coaching staff. He's been at practices and a presence on the team. Still, having him at the helm is a good thing for Golden State. 
Which is good, you know. It's been such hard sledding for them this season at 39-4.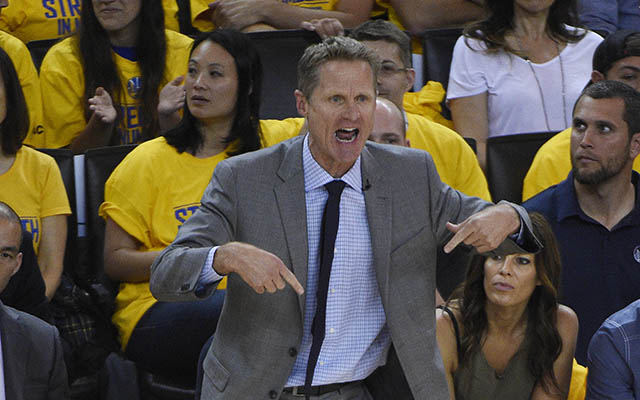 Show Comments
Hide Comments
For the first time, the NBA will be holding an awards show after the season

The Pacers president was there to deliver Indiana's bid for the 2021 All-Star Game

Is Paul George in a Laker uniform just a formality at this point?
Kerr may miss the entire playoffs due to complications from back surgery

The excitement was just too much to handle, apparently

Westbrook noticed something the players all had in common