Steve Nash returning for the Lakers on Friday
Steve Nash's season appeared to be over. But the 40-year-old point guard isn't done yet.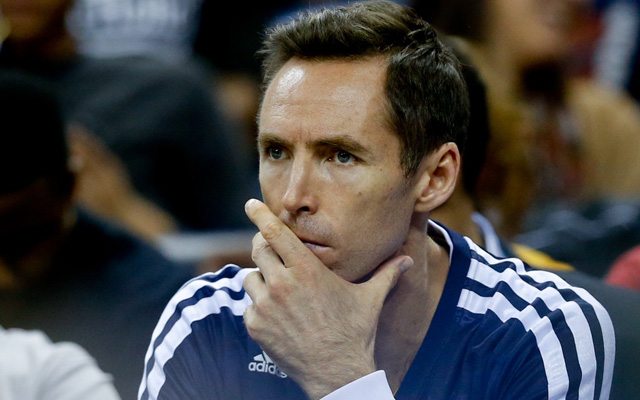 Steve Nash's season appeared to be over. But the 40-year-old point guard isn't done yet.
Nash had been ruled out a couple weeks ago for the rest of the season because of a nerve root irritation, but said after shootaround on Friday he's ready to play against the Wizards.
"I'm excited," Nash told reporters. "Unfortunately I don't really know where I am because I haven't really been up and down or played or scrimmaged in five weeks, but I've tried to keep myself afloat in case the opportunity came up. I'm just going to try to get through it the best I can, contribute and not get hurt."
Nash will come off the bench for the first time in his career since the 1999-2000 season. 
"I don't know how much I'll play, but I'm available and if I can just help out of the bullpen, it will be fun for me," Nash said. "Hopefully I can just help a little bit."
D'Antoni told reporters Nash would likely play between 10-12 minutes. 
Battling injuries, Nash has only appeared in 10 games this season. He's averaged 7.6 points (31.6 percent shooting) and 4.7 assists.
Nash, who is owed $9.7 million next season by the Lakers has been, has found some criticism from fans for not retiring. But he still feels he can play. If healthy, of course.
"I think anyone who has some sort of critical thinking ability looks at the situation and goes, 'Who wouldn't?'" Nash said. "It is a contract and we fight [as a player's union] every 5-6-7-8 years to hold on to guaranteed contracts in our business. I came in here with the highest of hopes, broke my leg playing here and I think people respect the fact that that's honest and anyone who says they wouldn't do that probably is not trustworthy."
Show Comments
Hide Comments
Our Latest Stories
The Stifle Tower had it going on the offensive end Wednesday night

They were throwing down in the Mile High City

The OKC guard does it again
The All-Star forward could re-sign in Atlanta, but wants to test the market

The two big men are out one game for exchanging punches Tuesday night in Toronto

The Warriors forward is scheduled to be re-evaluated next week