Stoudemire, Smith won't travel for Knicks' first three preseason games
Amar'e Stoudemire and J.R. Smith are both recovering from offseason knee surgeries. They won't travel for first three preseason games for the New York Knicks.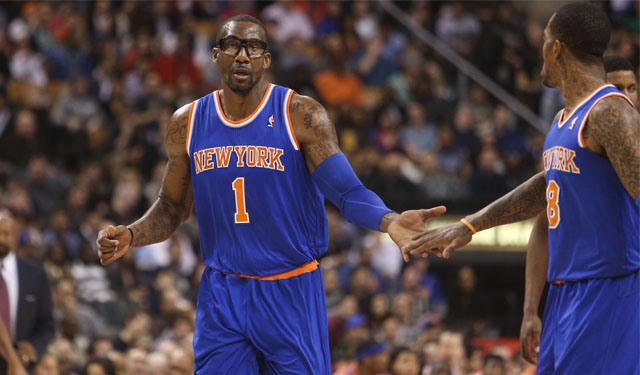 The New York Knicks have a lot of things to work out with their rotation during the preseason. With the eventual return of Amar'e Stoudemire and the acquisitions of Andrea Bargnani, Metta World Peace, and others, New York will need time to figure out how all of their new and returning pieces of the roster fit together. That's a tall task for coach Mike Woodson, who managed to help his team fight through injuries last year to win 54 games.
However, he won't have nearly as much time this preseason to do that as he might have hoped for. J.R. Smith and Amar'e Stoudemire are recovering from offseason knee surgeries and aren't available for the first three preseason games (J.R. won't be available for any of it). In fact, Stoudemire and Smith won't even travel with the team during their first three preseason games, according to Adam Zagoria of SNY.
Woodson says Tyler, Amar'e and JR won't make the trip for the 3 preseason games

— Adam Zagoria (@AdamZagoria) October 7, 2013
The Knicks will be in Providence, Rhode Island on Wednesday night to take on the Boston Celtics, play a game against the Toronto Raptors in Toronto on Friday, and then turn around for a Saturday night matchup against the Celtics again, this time in Manchester, New Hampshire. They won't play a home preseason game until October 25 when the Charlotte Bobcats visit Madison Square Garden. 
Show Comments
Hide Comments
Jackson must also apologize as part of a diversion agreement that stemmed from a confrontation...

Marreese Speights time with the Clippers was short-lived

The Celtics will attempt to even the series Tuesday night in Cleveland
Golden State's owner would like some revenge after his club blew a 3-1 lead last year

Mike Brown has coached Golden State for the majority of this postseason

You play who's in front of you, and that's what Golden State did -- and beat everyone it f...