Suns exec Lon Babby says 'distinct possibility' team saves cap room this summer
Suns executive Lon Babby says, "There's a distinct possibility that we don't use our cap room this summer." Which means Steve Nash is gone.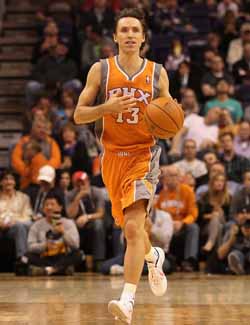 So long,
Steve Nash
. Your time in the desert is almost assuredly over.
At 38 years old, Nash had made things pretty clear to the
Suns
: Get better this summer, or I'm out. Nash is an unrestricted free agent and despite and incredible amount of loyalty to the organization, city and fans, he isn't going to deal with painful rebuilding in the twilight of his career.
Nash had said the organization told him they intended to improve the roster this summer, but
said he wouldn't return without marked improvement
.
"I definitely do want to win," he said. "I'm not going to come back to the Suns if there isn't an improvement. If they're not ambitious and they're not looking to upgrade the roster seriously. And I think they are. They'll have a lot of flexibility in free agency. I think I've been standing pat so they could do some things this summer. I think they'll become a definite possibility for me, but I do want to win and I do want to consider all my options."
Well, start thinking about those options
because via the Arizona Republic
, it doesn't sound like the Suns are planning on getting any better this summer.
The Suns will have a league-high $23 million in cap space that could be used to sign free agents in July or make a one-sided trade that takes on salary.

"There's a distinct possibility that we don't use our cap room this summer," Babby said. "We've worked hard to put ourselves in this position to have this kind of flexibility, to have a range of opportunities, but I'm absolutely determined that we are going to be disciplined in how we approach this because we cannot get ourselves right back in the same spot we were in by doing bad contracts, not assessing value properly, not making the right choices in terms of personnel."
Essentially, that means it's over for Nash and the Suns. That feeling was already fairly anticipated, but it's becoming increasingly clear that Phoenix isn't interested in improving right away.
Nash has said he'll consider his options and those will likely include the Mavericks, Magic, , Jazz, Lakers, Knicks and maybe even the Heat, a team he said he'd listen to. He wants to find a contender, and he probably still wants to start.
It's a shame, but then again, it makes sense for the Suns. They are looking at a long term plan and that really doesn't include a 38-year-old, even if he is Steve Nash. The Suns have a precious amount of cap space and are trying to get younger with their roster. They have some youth, some assets and some picks and most importantly, money to spend. Whether historically stingy owner Robert Sarver will shell out money next season is yet to be seen, but one thing's for sure: He's probably done signing checks for Nash.
Show Comments
Hide Comments
Celtics reverse course in Chicago; Pacers head home

Our NBA experts predict the first round of the postseason

Can the Clippers close the series without Blake Griffin?
The playoffs are starting to heat up

The Cavs are the first team to move on to the next round

Our experts predict every series in the 2017 NBA postseason