Suns (finally) trade disgruntled Markieff Morris to Wizards
Washington sends Kris Humphries, DeJuan Blair, and a protected first-round pick for the disgruntled, malcontent stretch four.
Well, it only took him six months, but Phoenix Suns GM Ryan McDonough finally found a move to trade disgruntled forward Markieff Morris, Ken Berger of CBS Sports confirms. 
Yahoo Sports first reported the deal, which sends Morris to Washington in exchange for a protected first-round pick, Kris Humphries and DeJuan Blair. Morris had been unhappy in Phoenix since this summer when the Suns traded his brother Marcus to Detroit less than a year after signing both to the same sub-market-value contract. 
Markieff told reporters in preseason he would not be in Phoenix to start the season. He played 37 games with the Suns, instead. 
The Wizards are clearly gambling, as the pick is reportedly top-nine protected. That's a steep price for a player facing assault charges in Phoenix for an off-court incident and who has clashed with teammates and has a reputation for attitude problems. But the Wizards needed a boost in order to salvage the season and reach the postseason, with power forward their biggest position of need. 
If Morris can contain his behavior and grow up as a professional, he can help the Wizards in a significant way. If not, this is a lot to surrender for a malcontent who is shooting 39.7 percent from the field this season, averaging just 11.6 points per game. With their season heading for the drain, however, the Wizards are gambling. 
The Suns get what will most likely be a first-round pick for Morris, which is great return, and a quality reserve power forward in Humphries. Humphries and Blair combine for over $6 million in non-guaranteed money they can clear this summer. This is a big win for the Suns.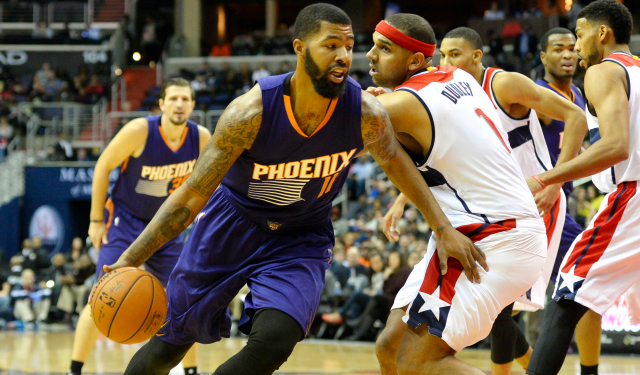 Show Comments
Hide Comments
Surgery is to "repair core muscle-related injuries"

Somehow, the Celtics have become a significantly better defensive team with Thomas on the...

Will Iggy stay with Golden State? Does anyone have any idea what to do with Derrick Rose?
Hoiberg was asked about Isaiah Thomas possibly carrying the ball during Game 5

Celtics point guard does not need anyone to hype up his defense

The Bulls had it, they had it ... and ... it's gone