Suns GM says it's 'unlikely' they keep all three first-round picks
The Suns could sell off or trade one or more of their three first-round picks. What they'll do with them should cause some intrigue.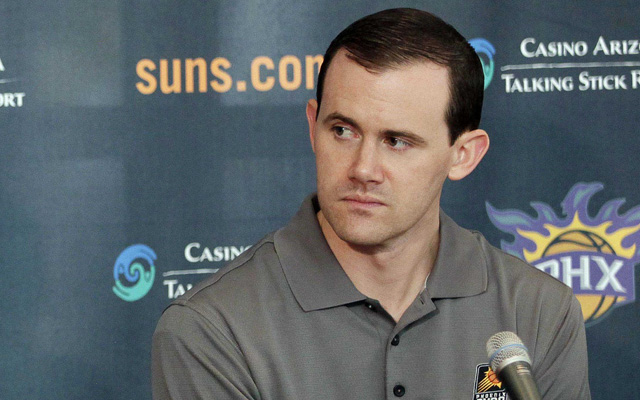 More Offseason Analysis: Coaching changes, news | Free Agency | Draft | Rumors
In an interview with Orlando radio, Phoenix Suns GM Ryan McDonough told CBS Orlando that the Suns are likely to trade at least one of their three first-round picks. 
Suns GM Ryan McDonough on Baumann & Big Joe said, "I think it's unlikely we use all three (1st-Rd) picks." Listen: https://t.co/zTXmbBblN8

— David Baumann (@DavidBaumannCBS) June 18, 2014
The Suns have picks No. 14 (their own), No. 18 (via Washington from the Marcin Gortat trade) and No. 27 (via Indiana from the Luis Scola trade). They also have seven guaranteed spots and plan to bring back Eric Bledsoe and P.J. Tucker in free agency. So factoring in any free agents they want to add or players like Ish Smith they want to bring back, they just don't have the room to add three first rounders. This is more practical than anything. 
So the question, then, is what do they do with them? Suns owner Robert Sarver is notorious for selling off late round draft picks, but the team looks like it's going to be cheap and good again next year. Could they package them together as part of a move for Kevin Love? 
There are going to be options for McDonough, but one thing seems certain. The Suns aren't standing pat on draft night. 
Show Comments
Hide Comments
Series prices show Dubs light years ahead

Green responded that he's 'the modern day Draymond Green'

Our experts predict whether the Jazz can compete with Golden State, along with the rest of...
Breaking down key matchups as the second season reaches the conference semifinal series

Pierce's 19-season run in the NBA ended Sunday as the Clippers bowed out of the playoffs

Utah overcame its relative lack of experience with a balanced, deep and versatile roster