Suns' Goran Dragic wins 2013-14 Most Improved
The Suns' Goran Dragic has been named the 2013-14 Most Improved player in a landslide vote.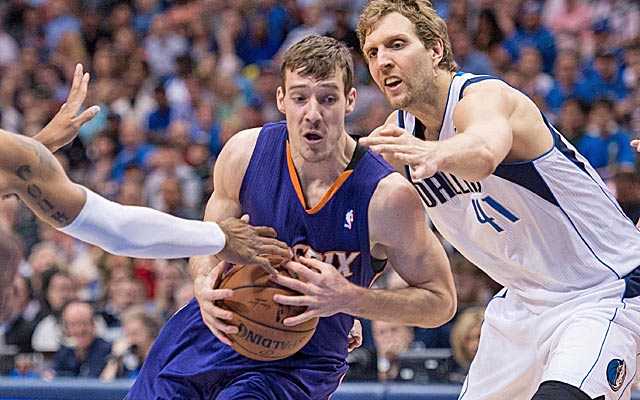 More Playoffs: Schedule | Threat Matrix | Previews: East | West | Picks
Goran Dragic of the Phoenix Suns has been named the 2013-14 Most Improved Player, the league announced on Wednesday. 
Dragic, who enjoyed his best season in the NBA, nearly led the Suns to an improbable postseason berth with 48 wins. He pulled in 65 first-place votes and 408 total points, topping runner-up Lance Stephenson who had 13 first-place votes and 158 total points. 
The top nine (in order) was Dragic, Stephenson, Anthony Davis, Gerald Green, DeAndre Jordan, Kyle Lowry, Blake Griffin, DeMar DeRozan and Patty Mills. 
Dragic, 27, averaged a career-best 20.3 points on 50.5 percent shooting plus 5.9 assists and 3.2 rebounds in 76 games. He really exploded for the Suns when backcourt mate Eric Bledsoe went down for two months with an injury and Dragic assumed the bulk of the offensive responsibilities for Phoenix. He scored a career-high 40 against the Pelicans on Feb. 28 in a 116-104 win.
Dragic was drafted 45th overall in 2006 by the Spurs. 
Remember, for transparency, you can see how the entire media voted here.
Show Comments
Hide Comments
It's never too early to start thinking about next year's NBA Draft

Boston took Tatum with the No. 3 pick, which they had after their trade with the 76ers

Someone in New York clearly doesn't want the Knicks to trade their prized unicorn
See who nailed it and who whiffed with our grades for every pick of the 2017 NBA Draft

Full results of all 60 picks of the 2017 NBA Draft

Highlights and lowlights, including several ways the Bulls found to lose